Today's progress: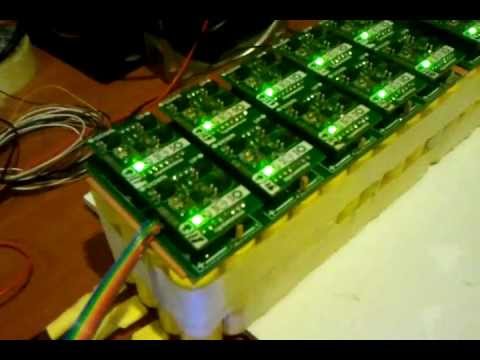 Description:
"A quick demonstration of my prototype battery management system (BMS) polling the cell voltages of a pack of A123 lithium batteries. There are 18 in series and 4 in parallel. This is approximately 1/5 of a larger high voltage battery pack that I have built to test my 3-phase motor controller at high loads. At the moment, it takes about 7mS (that's 0.007 seconds) to read each cell's voltage. Lower value pull-up resistors on the optocouplers will allow this to be increased significantly. The system is also capable of reading cell temperature, but it is not implemented on this test pack.

Bypass capacity is 1A @ 4V.

The modular design allows the BMS to be used on any type of lithium cell so that pack replacement and/or upgrades in the future do not require a new BMS to be purchased. Only appropriate adapter boards would be needed."