Please read the entire thread before committing to purchase tickets.
THIS EVENT IS SOLD OUT
Missed out on buying a ticket?
Theres plenty of carparks along and behind the park grounds for spectators to come.
You can park there, but you'll have to make your way to the meet on foot.
Facebook event is here:
https://www.facebook.com/events/218249444996108/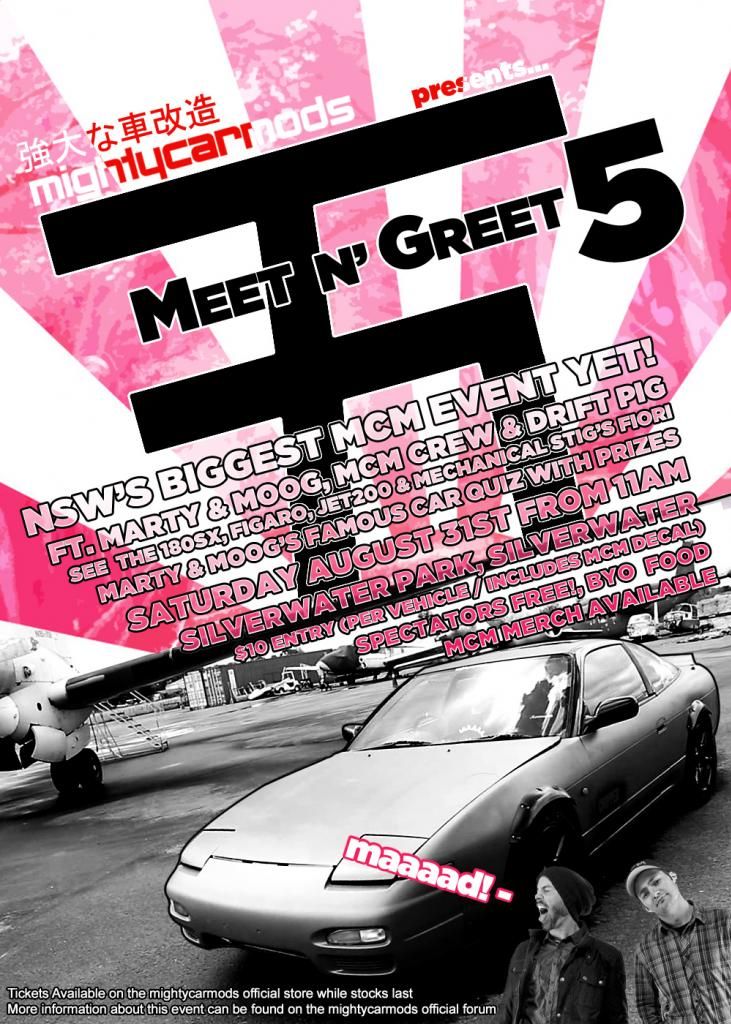 M I G H T Y C A R M O D S M E E T N G R E E T N O F I V E
It's finally here. The biggest MCM meet yet! Come down to Silverwater Park at the end of this month (yes less than 3 weeks away!) for an awesome day for all things MCM.
Meet Marty & Moog, and all the MCM crew and their cars, as well as a pig that likes to go sideways.
Please read the FAQ below before purchasing tickets thanks.
How much is it to enter?
$10 per vehicle. Free to spectators.
What do I have to bring?
A clean car, a good attitude and Print the physical QR code ticket and we'll scan it in on the day
Or alternatively the email receipt. OR use Apple Passbook and store it on your phone.
What do I do when I get there?
Hand or show the above paper/ticket, then one of the MCM crew will direct you to a place to park your car.
You will park where the crew member instructs you, no exceptions as we have to organize parking for over 250 vehicles.
You cannot move the car until you are ready to leave.
What if I want to park next with my mates/club?
Come all together at the park entry. Simple
Can I come early?
No admittance will be allowed before 10am (subject to change)
Park will start to close at 5pm.
Can I post this on Facetubes, Youbook etc.?
Not until MCM post it on their FB. I rather let MCM members have first opportunity at purchasing tickets.
Food/rubbish?
We will be providing some BBQ Food but it's best to bring your own food as well as we won't be able to cover everyone.
There will be a couple of recycle bins/trash bins provided but it's best to keep your rubbish in your car. Don't litter!
So, I rip a skid in the park...
Not only will you be reported to the council and police, you will probably be banned from the forums and possibly future meets.
Also you will be charged with the damage to repair it and the cost of the council's security bond on top (basically don't do it!).
Any exceptions to who can buy a ticket?
Nope. We welcome all makes of people and all races of car.
Oh, it helps if you're in Australia and actually plan to show up.
It's raining on the day!
It will be forwarded to the next available day for the Park and the Crew to be available (let's hope this doesn't happen).
Ok, I've got all that, let me buy a bloody ticket already.
Sorry, this event is sold out!
Haven't got the ticket in my inbox yet.
Check your Spam folder, there's a good chance your inbox filter might put it in there. (for future convenience list it as not spam)
Maaaaaad!
Mad as flurpy's turbo rainbow excrement... ok maybe not.

Want to bring your car and park it within the meet?

Get your ticket here.