By popular demand. The build thread of me and my good mate Dan's 1977 Mazda 323. I dont have many pics at the moment but ill fill them in later.
Years ago I met Dan through a car forum. He come over one day and helped change diff in my Starion and were good mates since.
Dan moved up here to get work in the mines. His daily driver at the time was the 323. Dead stock with a 1.3L carby 4cyl.
After Dan bought a turbo S3 RX7, What to do with the 323 came up.
Plan was that we were to go 50/50 in turning the 323 into an NZ spec car with nasty matt black paint and a ported NA rotor. Nothing fancy, just simple...LOL as if.
Here it is in daily driver spec when it was still piston powered.
First thing we did was source a parts car. Dan found a cheap S1 RX7 which had been sitting and was low on compression. Was complete though.
We pulled the car apart, keeping a few of the parts for Dans RX7 and using the driveline for the 323.
Trying to remember the exact timeline of events. But heres a basic overview.
We sourced other parts, like EFI injection perfection setup with k&n filter, Ignition parts like new dizzy cap, leads, plugs, Gilmer drive. RX3 crossmember.
On a weekend away for speedway racing we stopped in at Rockhampton to see a few other rotor heads and one of them had a S5 RX7 turbo motor that he was selling. Deal was struck and we left with the motor. Motor was complete minus manifolds and turbo.
Time come to put the parts together.
Old Mazda has alot of interchangeability so the RX3 crossmember bolted straight in, the old piston motor mounts were ground off.
The 12a front cover was bolted to the 13b and the motor and S1 rx7 gearbox all went in like it was meant to be there, gearbox crossmember lined up, shifter poked up through the factory spot.
The injection system was put in place, an Old LINK ECU i had from my Starion was put in. The Crank Angle Sensor was changed out for the S1 distributor so the ECU only controlled fuel.
Dan custom made some headers and i made some mufflers from scratch. Dan also made a surge tank to suit bosch fuel pump.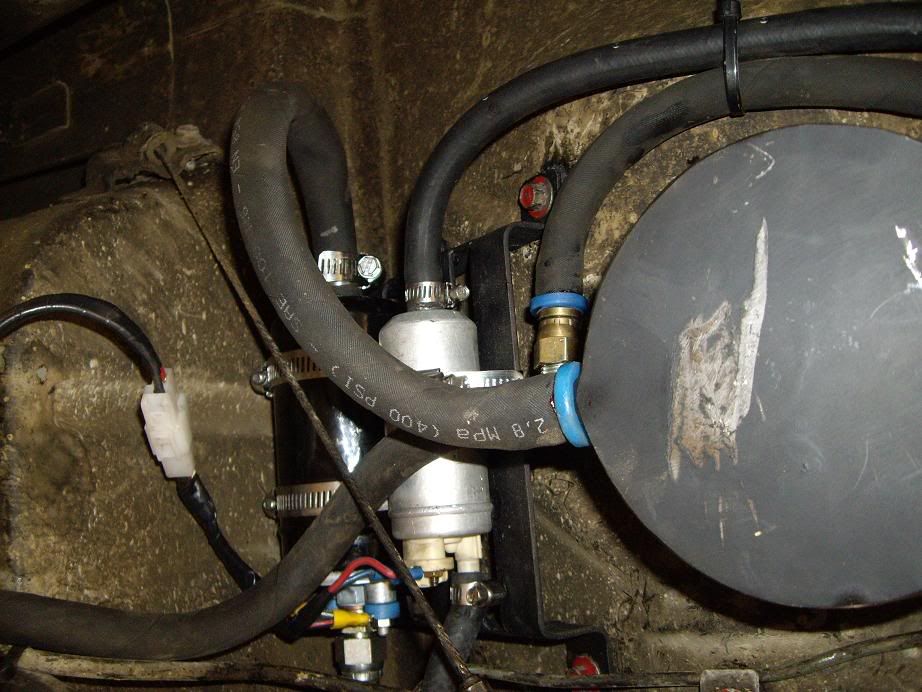 Heres what we ended up with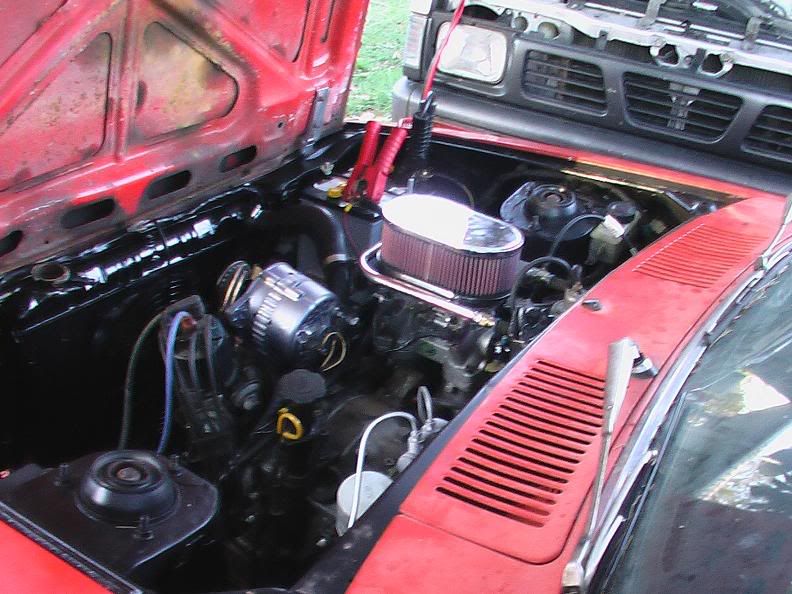 Engine bay was painted black while the engine bay was empty.
First time it moved under rotary power. Was a long day. Was loud as the exhaust ended beside the gearbox as shown in vid.
Next day was time to tune the car. Dan driving and me on laptop with wideband hooked up.
Not long after this the rest of the car was given a rush paint job. New gaurd and hatch was fitted, and the headlight surrounds/indicators replaced with new items. The rest of the exhaust was also fabbed up. It stayed like this for a while.
We planned to change the motor to a Peripheral port. Dan had housings modified and a manifold made but we never went through with it. We decided to go one better
The weak S1 gearbox was changed for a S5 box and twin plate clutch. The ignition system was changed to coilpacks and CAS and a Microtech ECU was fitted to control everything. Dan ran a few passes (still NA remember) in this configuration and got mid 15sec passes.
By now the unopened import motor was a bit tired, with no real indication how many kms were on it. It was time to Port it.
Racing Beat templates and a dremel were used to port out the end plates extending the main port and adding a bridge. So we ended up with a big bridgeport.
New apex seals were thrown in and Dan assembled the motor. The intake manifold was changed to a S4 RX7 one. For reasons explained later.
New combo was good for 15.0 naturally aspirated.
The stock diff didnt like the new found power and the centre tried to escape the housing....
A customised Hilux diff modified to fit a 323 was bought cheap and an ARB airlocker was fitted and installed in the 323. Brakes were changed to S4 RX7, coilovers added to the front and it went from 4 stud to 5 stud. It now rode on falcon steel rims with another pair having Mickey Thompson ET streets on it.
Scored a few turbo parts from someone changing their setup. We scored a Garrett T66 turbo, external wastegate, exhaust manifold, turbo beanie and a few other pieces like air filter. It was a bargain for $600
Here is the car with front coilovers fitted, hilux diff in place and rx7 brakes.
A front mount was slotted up behind the grille. I hunted down the parts to fit all the new gear. New setup comprised of T66 sitting on a stainless manifold with external gate venting to atmosphere, After the turbo the gases flow down a 3.5 inch dump going down to a 3inch exhaust with 2 magnaflow mufflers.
A tailshaft loop was fitted incase things go wrong. The car is now destined to be a drag car.
With some small injectors car was stuck to 18psi. But still enough to spin the street tyres in 5th gear once on boost.
This video although sideways can hear how loud it becomes once on boost.
And thats how the car sits now. The rear plate has cracked from excess engine movement and power so that has to be fixed, bigger injectors are needed, a retune and some mods to fit the ET streets as they foul on bodywork.
Not pretty engine bay, but once the setup is proven im going to repaint alot of it, tidy wiring and repaint the body. Car hasnt seen the strip due to no meetings being held and the cracked plate on the motor. Hope once finished we can run 10s on a cheap budget.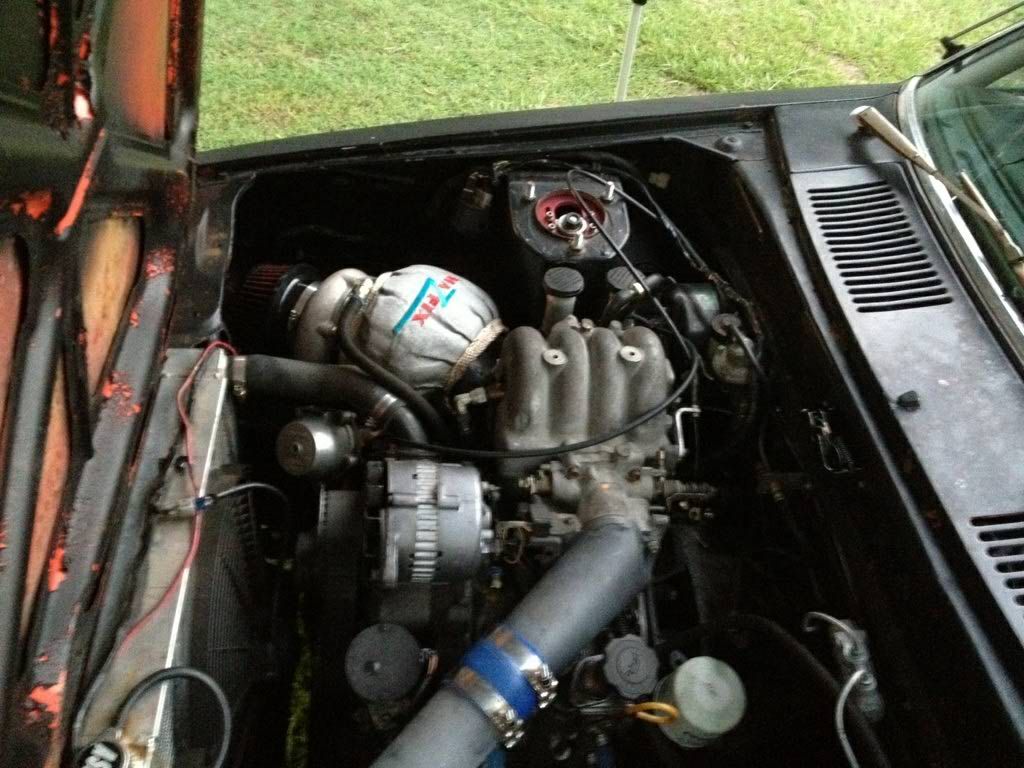 Ill try source some more pics and update the thread.