Hey guys. So if you've never seen my videos (shame on you if you haven't :P) then you would have never seen my Type R. So here is my on going Build Thread.
To start. We bought the car new back in 2008 at our local Honda dealer. Went through the catalogue and got just about every genuine accessory they had.
OEM Front and Rear Splitter Kit
OEM Type R Emblem Kit
OEM Bluetooth kit
OEM Floor Mats and Boot Tray
OEM Accent Interior Light kit
This is how she looked not long after we picked her up.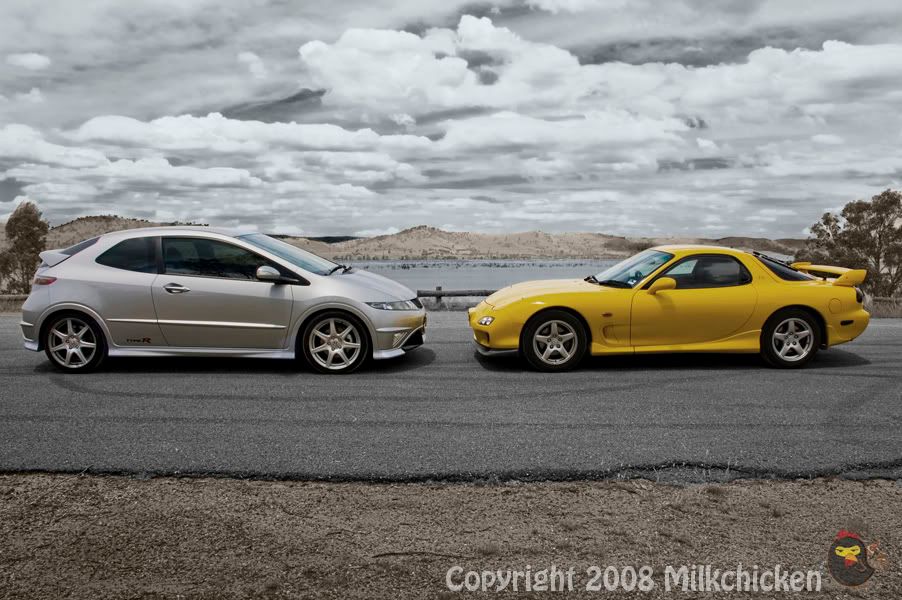 After having her for a few years and only doing 2500km, yeah you read that right. Honda japan released the car for a limited run in 2010. Mugen finally then got their hands on one and started to bring out parts for it. Having had a few mugen parts on my previous cars i just had to have more.
Our first ever mod and also our fist video was the Mugen Cat Back exhaust. I drove to melbourne about 350km and back again, only a 15min break in between when we picked it up. Then i fitted it all up.. all in one day. I rock
It didn't give us a power increase as such, but man it gave a good note.
Then next mod to take place was the JDM RRC Manifold. The Japanese Type R (also known as the FD2) has a different manifold to the European model, and because it just fits its a good upgrade, larger diameter and straighter piping, plus no big baffle on the bottom to suppress the noise and rob us of power. We also fitted a gasket that stops heat soak to the manifold. It gives a sound sort of like ITB's (individual Throttle bodies) It sound soo nice. the manifold just fits in there.. i can't even fit my fingers in between the manifold and the radiator support. it doesn't hit but its close.
Next up we put on the Mugen Hi-Performance Intake Kit. In short a new air box and cold air feed. This besides the exhaust was my favorite mod. The vtec sound is just amazing, it kicks in good and gives the aussie cars a real scare. We waited for 4 months for this to arrive, But it was so worth it in the end
Last engine mod was the Mugen Throttle Body. Mugen bored them out to 68mm from 65mm standard. this means better flow and more air can be crammed into the manifold, it also is a good match to our manifold as the intake for that is 65mm. this is one of the most rarest mods we have. Mugen don't sell these to the public any more, so we were very lucky to get one.
So now your thinking how did you get all of this to work together? Well we had to flash the ecu to accept the mods. It will run perfectly fine without a tune, but whats the point in doing all this to not get the full benefit from the mods. We bought a flash kit and got a tune done after every mod we did. We moved vtec down to 3800rpm, but the car was very on edge for daily driving so it was moved up to 4300rpm and redline at 8500rpm. you might think thats high, but the original vtec kicked in at 5400 and the redline was only 8000. it was a big improvement. My friend who owns an rx7 was very scared when we took him for a drive last.
So this is how she looks now. We've also put OEM racing stripes and the fog light inserts that got put on with the intake kit. Engine has also been dressed up with a Mugen Coil cover made in Dry Carbon, mugen oil filler cap and radiator cap.
Update:
So i have been busy editing videos and fitting up parts but here is some of our latest videos on the car. enjoy
Mugen Exhaust Manifold.
I was actually dreading this mod. i had a look a few days before it was supost to arrive and to be honest it looked like there was no was it could fit without taking out the engine. But after i got the shields off it was so easy.
Performance wise, it actually made a big difference. We gained over the whole rev range but the most improvement was in the vtec range. we had to retune the ecu and bring the vtec point up and also change over the cam angle to work beter with the manifold. Over all the biggest improvement was with the noise. The manifold makes the exhaust sound more tuned i think thats the best word to describe it.
So here is the install video and also a sound clip of the exhaust going onto the freeway.
Bracing was the next thing that needed to be improved on the Type R. We purchased a set of J's Racing Braces for the top of the car. I would suggest this to anyone as it was one of the most simple mods i've done for a while. Improvements were there, but not huge. They also look very pretty sitting in the engine bay and the back window.
We then made way for some underbody bracing. First on the list was the Spoon Sub Frame brace. Although I wish it was in the awesome yellow colour like the concept brace was, it looks very stealth under there as there is no way to tell its not original. Fits snuggly under the original underbody cover. This was a easy install except for the fact that when i fitted it up the front engine dampener bar fell and hit me in the head. FML. The other bar we fitted up at the same time is the J's Racing Mid arm bar, It fites just up behind the engine and out of everything we've fitted up to the car, this was by far the easiest of them all. Both bars improved chasis rigidity and made the car feel more like a go kart
. here is the install video for you guys to watch.
Alright so this one was one of the bigger jobs. This time we fitted up the J's Racing Fender Brace kit. To get this done the whole front fenders had to come off. Performance wise it increased rigidity in the front end. J's Racing Claim that the FN2 has twisting around the wheel arches so by putting the bracing on it helps with handling. there is a definite increase in rigidity the car is very much point and shoot.
All comments welcome
Mods Include
Engine:
Mugen Hi-performance Intake
Mugen Throttle Body with Coolant Bipass mod
RRC Manifold (from FD2)
Hondata Intake Manifold Gasket
Mugen Exhaust Manifold
Mugen Cat Back Exhaust
Hondata Flash Pro with a Custom Tune
Mugen Quick Shifter Kit
Chasis:
J's Racing Front Strut Brace
J's Racing Fender Braces
Spoon Sub Frame Brace
J's Mid Arm Brace
Selby's Rear Sway Bar
J's Racing Rear Brace
Mugen Suspension
Dress up:
Mugen Dry Carbon Coil Cover
Mugen Gold Oil Cap
Mugen Radiator Cap
Mugen Shift Knob