Forenote: This ISN'T really a how-to, but mods feel free to put it there for informations sake as it may have some helpful hints...
So any true car DIYer out has had an idle moment where they went "Gee, I wonder if it's possible to make my own bodykit" and then sent their fingers typing their way to Google. But, as I'm sure even a quick search can tell you now, the majority of Google hits for such a query are people posing that question on various forums and being met with responses that range from "Don't bother" to "Seriously, don't bother".
Well, my mate Steven (who is a member here, but hasn't posted since his before his 300ZX went to car heaven) got it in his head that he really didn't like the look of the front of his 1979 Nissan 280ZX and wanted to build a custom bumper to go there as the existing kits are either not what he wanted or not economical to get here. This is where I come in, because he has enlisted my help (I have the tools and space and between us the know-how should be there somewhere) and the naive fool I can be went "F*CK YEAH LET'S DO IT!"
This is something like the basic idea of what we're aiming at:
(only a bit more writing I swear)
So originally the plan was to make a frame of cardboard, fill in the gaps with expanding foam then take it back to the desired shape before taking a fiberglass mould from that. Well I had a brilliant brainwave that involved the long-forgotten material 'extruded polystyrene'. That would have been perfect, if it weren't $100+ per sheet (needing 3 sheets), so we went back to the inferior plan A and made a second trip to bunnings for a few things. Then back to mine to begin: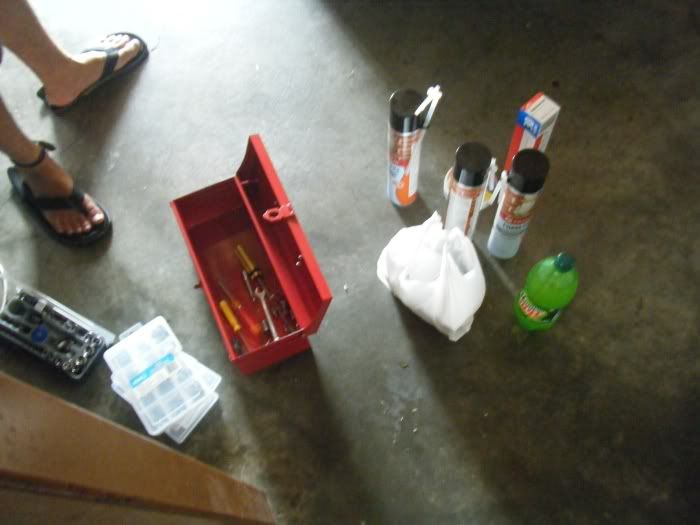 3 cans of expanding foam
1 50m roll of tape
30m roll of alfoil to cover parts that we didn't want destroyed by expanding foam (expanding foam DOES NOT COME OFF [okay, that's not entirely true but it's a ***** to get off anything at all])
Also some lunch in the plastic bag...
Some of Steven's tools (actually, most of them; that's why were at my house)
Mountain Dew
and cardboard, lots of cardboard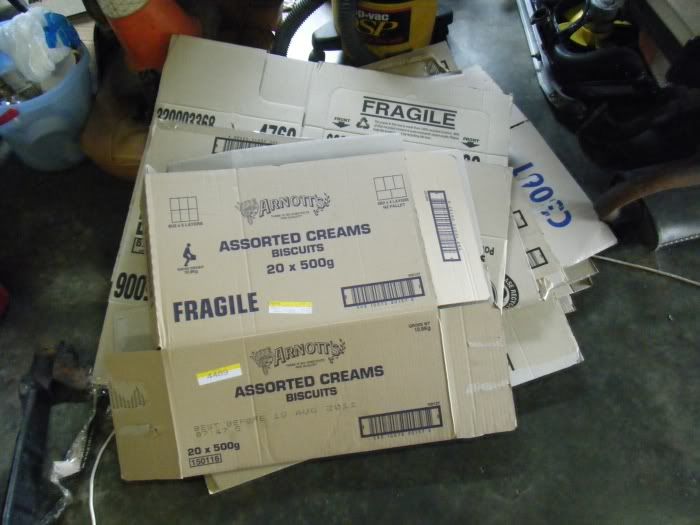 For the interested, this is the foam we used (despite initial concerns I will vouch for it's usefulness). It was $16 for a 750ml can at bunnings and fills about 3x the amount expanded fully according to the can.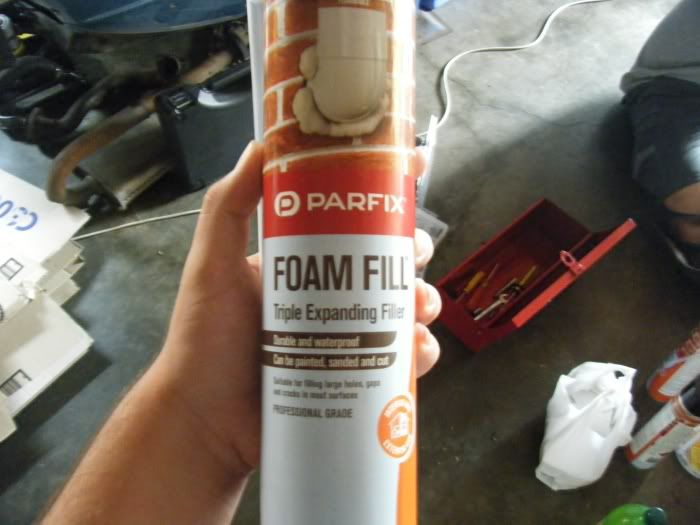 We disassembled the front entirely so that we're left with just the gaping hole that will be filled with the front kit: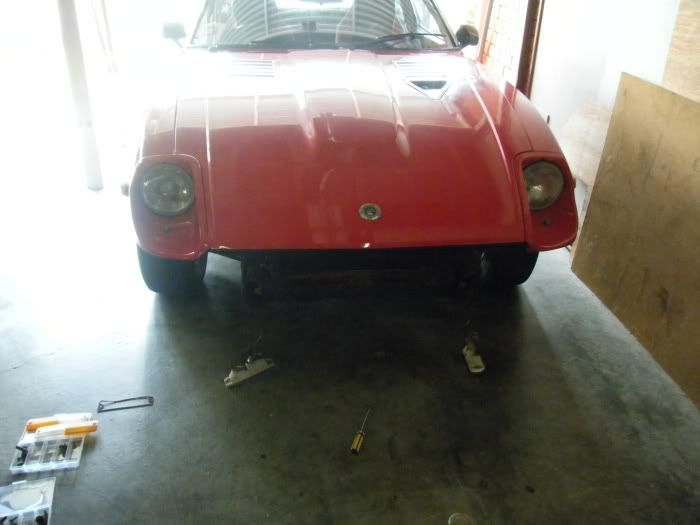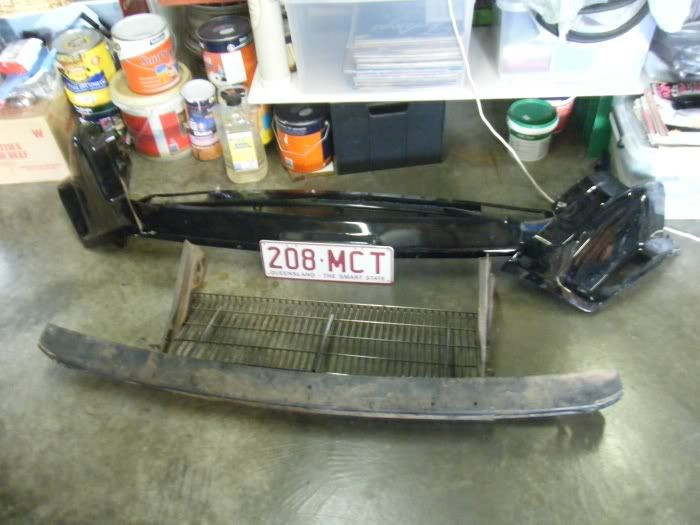 (all the bits that came off the front)
So anyway, we decided that to begin we needed to get a template of the basic shape of how the side sections would look, so we covered the headlight buckets in alfoil and gave them a cardboard base. This leaves us with a fillet/section/piece/slice on each side and they are the beginnings of the mould making. So maybe I (yeah, I'll take responsibility for these) got carried away with the foam, but it's hard to make it fill gaps when you don't have the patience to find out if it will expand to fill them or if you need to put more in, so I went the the ol' more-is-better approach and got this:
Okay, cool. Those are massively oversized.
It's also at this point that I begin getting pissy because I overlooked finding out how much the foam would harden as even after 30 minutes it is still far too flexible to be of any use to us (think: packing peanuts). Steven tells me to harden up, build a bridge and get over it and wait the full cure time before we panic. (not a fan of failing at anything, especially so soon into the project). Anyway since we spent the first half of the day going on a wild goose chase after way-too-expensive polystyrene this is where we lost the light and called it a day.
But when you're excited about a project, a lack of daylight won't stop no one. As it turns out the foam cures hard to enough to be more than useful (perfect it maybe too strong a word, but it's not bad at all). So after the full 4 hour curing time Steven came back and we spent some time carving the excess foam off to get a closer shape. We were impeded by the fact that in some of the deepers spots there were pockets of still un-cured foam meaning that we couldn't get the shapes perfect today, but they are reasonably close.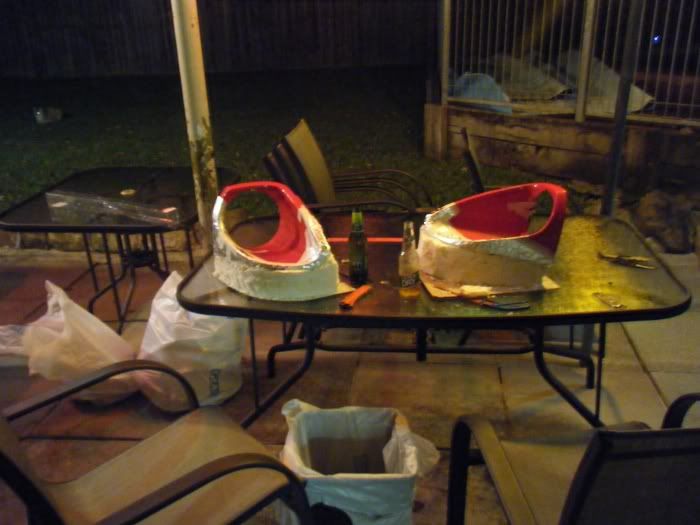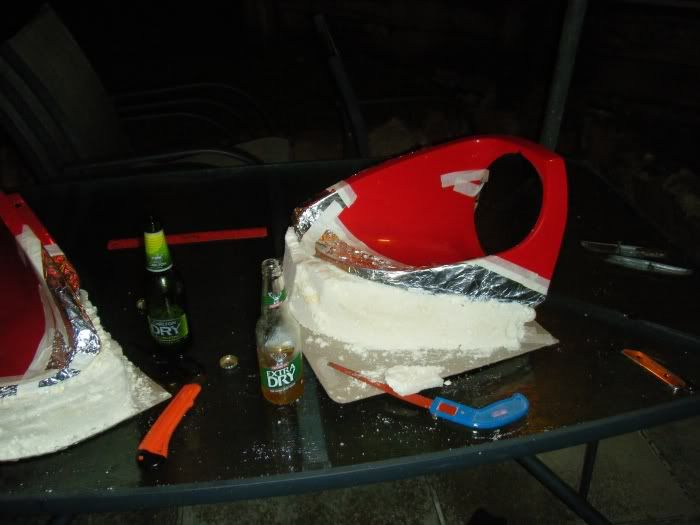 (half a bin full of the stuff we carved off both)
(beer is definitely a requirement for this project)
After some carving we had a quick and exciting test fit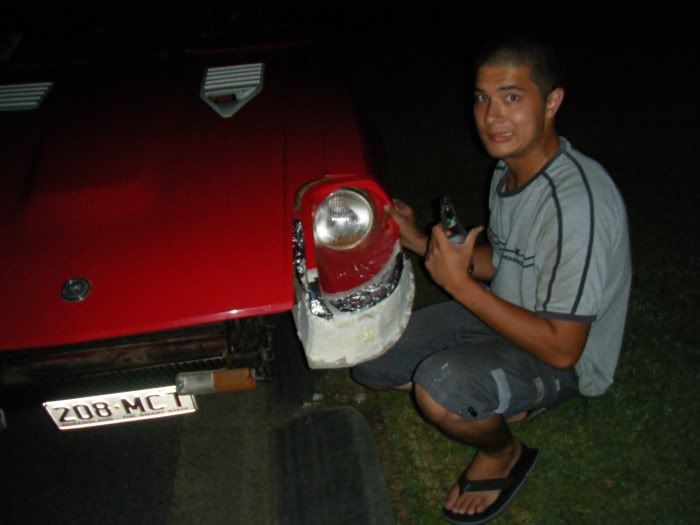 Carved out the stuff that was in the way, and managed to get both headlight buckets to hang in place. I tried to explain to Steven that unless you're doing the project you wouldn't understand WHY this next picture is exciting since it now looks like it's got droopy eyes, but take my word for it when I say it is definitely exciting: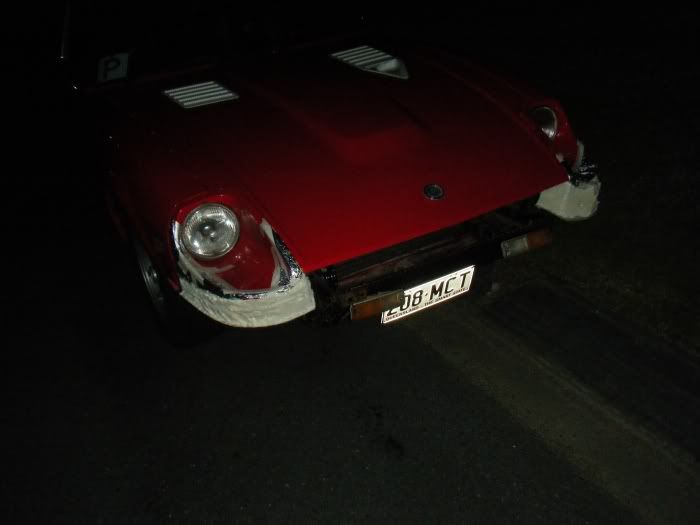 It's just so cool to see that it's all working so far and that a project like this is not impossible like most forum goers found via google would have you believe.