Hey Guys,
I thought I'd post in there about my R33 Skyline build.
I've always wanted to race cars, ever since an early age. But I was never allowed to, always told it was too expensive and had to race bikes instead, offroad, never on the tarmac. Which was a mildly successful career, ending when I went to uni.
Driving has always been a lot more fun for me, rallying the farm ute around the paddoks and through fire trails from an early age. Later buying a 98 Subaru WRX for a daily driver which was fun too, taking it for a spirited drive most weekend, usually involving a lot of gravel roads too.
After taking my WRX on the track I thought to my self, I need more of this in my life. The after finishing the track day, looking at my destroyed tyres, disintegrated brake pads and the need for an oil change both before and after the track day and massive wish list of mods; I knew it was going to be just as expensive as my father told me it would me.
Two track days later I decided the WRX's track career was over, it would be retired to daily driving duties only. I needed something I could dedicate to the track. I had a spare $10k just lying around that I'd saved up for a rainy day so that was my budget.
I was thinking my car needed to be RWD, two door and have a modicum of sporting pedigree. After lurking around carsales, my105, boostcruising, nissan silvia and all the other usual suspects I found a large amount of worthy cars, Silvias, Sprinters, Surpas, Skylines, RX-7s, MX-5s all those guys. Until one day I found it, the car I wanted; 1996 Nissan Skyline R33 GTS-t for $3,500. How bad can it be I thought to my self... I got some photos off the guy selling it and it all looked pretty good, bit of body damage but pffft, I don't care about that! Plus it's a skyline! I've always loved those Hotplate taillights and they were always my favourite in Gran Turismo :Pirate: Thats right, I bought a car just because I liked it in a video game! I've never even driven one IRL before!
Photo of the car from the seller
Unfortunately the car was in Sydney and I was in Hobart, how the hell am I supposed to get it here! Fly over, drive back? That was going to be mightly expensive and because I'd just started a new job I didn't have any leave saved up. A bit a research later I found a mob that'd ship it from Sydney to Hobart for $800. Bam! Needless to say the seller was a little skeptical, I mean wouldn't you, some guy from Tassie wants to buy your car unsighted. hmmmmmm. A couple of phone calls later and it was all sorted and the car was on it's way down.
1 week later it arrived. One dirty, unloved, poorly maintained, badly modified skyline. Awesome
Mods already on the car included: Stupid unfathomable headunit, PowerFC with hand controller, 3" Exhaust, Front mount intercooler, Greddy Boost Controller, 17" mags, Strut brace.
Car in my drive way. Woot!
Picking up the car from the wharf I think the taxi driver that dropped me off was more excited than I was. He was a very funny man, turns out he's a big fan of imports and has a soarer. Walking over to the car I had a sinking feeling, blue GT badge... 4 stud hubs... oh no, it's a NA skyline that's been turboed. FFFFFFFFFFFFFFFFFFFFFFFFUUUUUUUUUUUUUUUUUU. How did I not notice this before! Hopping in the car I was over whelmed by a very powerful smell, it was a mix of curry, cigarettes and the 10,000 air fresheners the previous owner had deployed, my god.
Firing the car up I instantly knew something was wrong, not being overly mechanically minded I suspected a bearing and I'd be correct after taking it to my mechanic who was very confused but quite happy with my purchase. I'd been talking to him before buying the car about getting into drifting and time attack.
The original plan was to just track the car the way I got it but there was no way this car could do anything like that. Old mate previous owner hadn't even connected water lines to the turbo when he installed it. Turbo was stuffed, Mains bearings were stuffed, suspension was so clapped out you almost lost control changing lanes. Sigh... This is going to be expensive...
It was bullet biting time, do I just slowly fix it up and track it or do I get it all done properly? What do I want from this car? I knew that if I built it my self I'd just **** it up like I did with my old VL commo. **** biting the bullet, I'm going to swallow it whole! Go all the way, no turning back.
The shopping list.
Engine
Nissan N1 Oil & water Pumps
Nitto Crank collar to suit N1 oil pump
New Low temp Thermostat
Nitto 1.2mm head gasket
ACL Race bearings (Mains and Big end)
Nitto Forged Pistons
Nitto forged H-beam rods
ARP Head studs
ARP Main Studs
Machine Head & Block
Linish crank
Bore and Hone
Nismo 740cc injectors
Tomei Poncams
Plazmaman plenum
Plazmaman Throttle body
Trust GREX Oil cooler
Management
Haltech Plug in Pro ECU
Turbo
Garret 3076R
Powertune high mount manifold
44m Tial Wastegate
3" dump pipe
2" screamer pipe
Suspension
BC Adjustable Coilovers
Tune agent Adjustable Castor Rods
Whiteline blade adjustable Swaybars
Steering rack spacers
Drivetrain
Stock RB25DET gearbox
Nismo 2way LSD
Jim Berry Full Monty Clutch
G-max Drift Wheels 17"
Chassis\interior
Full weld in cage built by Az Custom
Sparco Evo3 Carbon Fiber Seat
Brakes
Stock R33 Turbo brakes.
EBC Green pads.
Fuel
Custom Surge tank built by Az Custom
Walbro fuel pumps
I'm sure we'll all agree, it's one arousing shopping list. Everything done properly by proper people.
Picture time!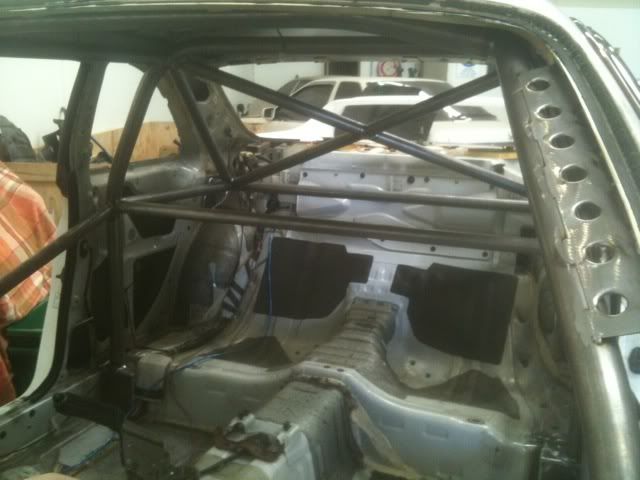 Roll cage going in.
Cage Painted, Satin Black
Oil and Water Pumps on, pistons in.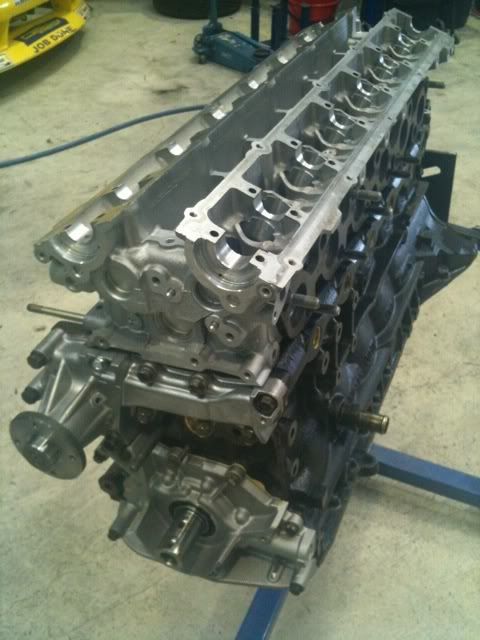 Head going on, apart from Cams it's stock.
Engine finished. Plain RB Pr0n. Love it.
Interior Before
Interior After, which seat can I take?
Now that the epic build was finished it was time to get out on the track, private track day with a few friends? Nah, I'll just jump in the deepend. How deep you ask?