Just joined up here, thought you peeps might be interested in this. I'll cut and paste from another forum as it's a bit epic and I want to submit it before I age too much.
Excuse the layout, this is cut and pasted from another forum.
This car was originally going to receive a twin turbo Nissan VQ30 V6 that I had built a heap of custom stuff for and fitted into an E30 BMW. I needed some cash for my 2JZ 1968 Toyota Crown body restoration so sold the TT V6 stuff to a mate for his Legacy.
This is the V6 setup.
So I rolled it into the home shed and started pulling the melted subaru engine out. Dropped it completely out on saturday and dropped the Vq in but it wouldn't fit because it is the tallest engine ever built. I cut the sump and it still wouldn't fit. I cut the eyeballs out of the Xmember and it still wouldn't fit under the bonnet, like by about 100mm. I put it down to the way subaru have built there Xmember. It seems they built it to fit subaru engines rather than nissan V6's.
I thought I'd throw my Toyota V12 in there for laughs and it fitted better than the stupid V6. So then I rang the owner of the car and told him he needed a V12 instead and he said whatever, as long as it does skids.
After a bit of trial and error we figured out a Xmember/rack mounting modification that would have the least impact on steering geometry and allow the engine to fit.
Proof that the bonnet shuts.
Proof that it opens.
Acres of space in there, the std headers will even fit with a bit of fettling.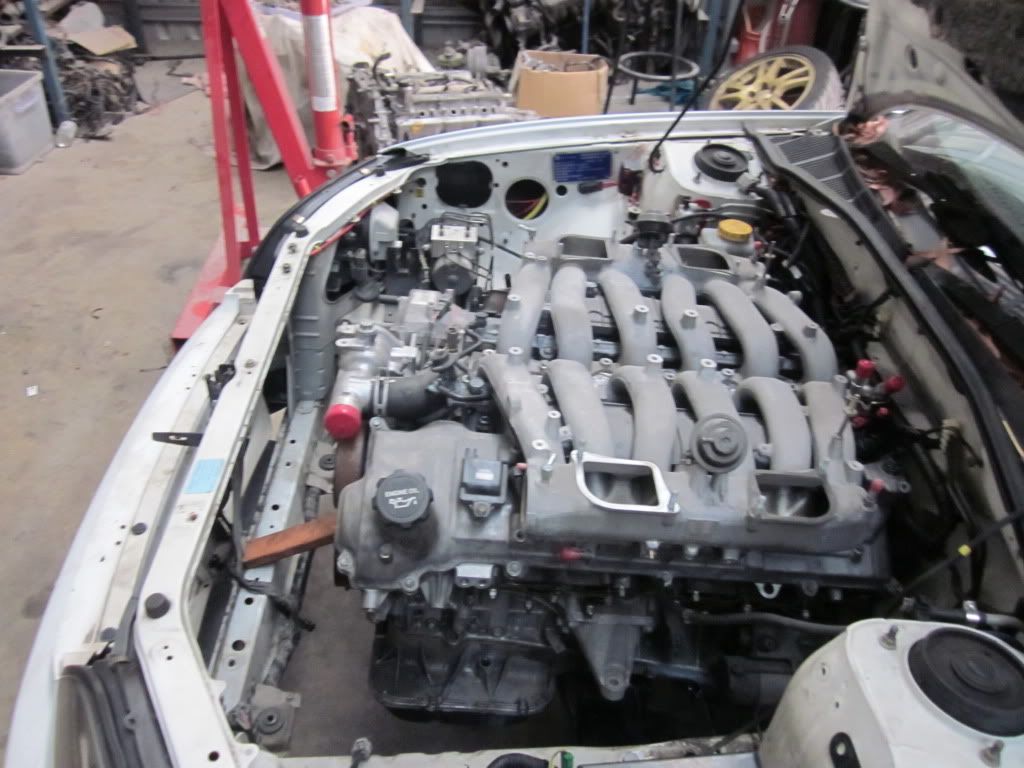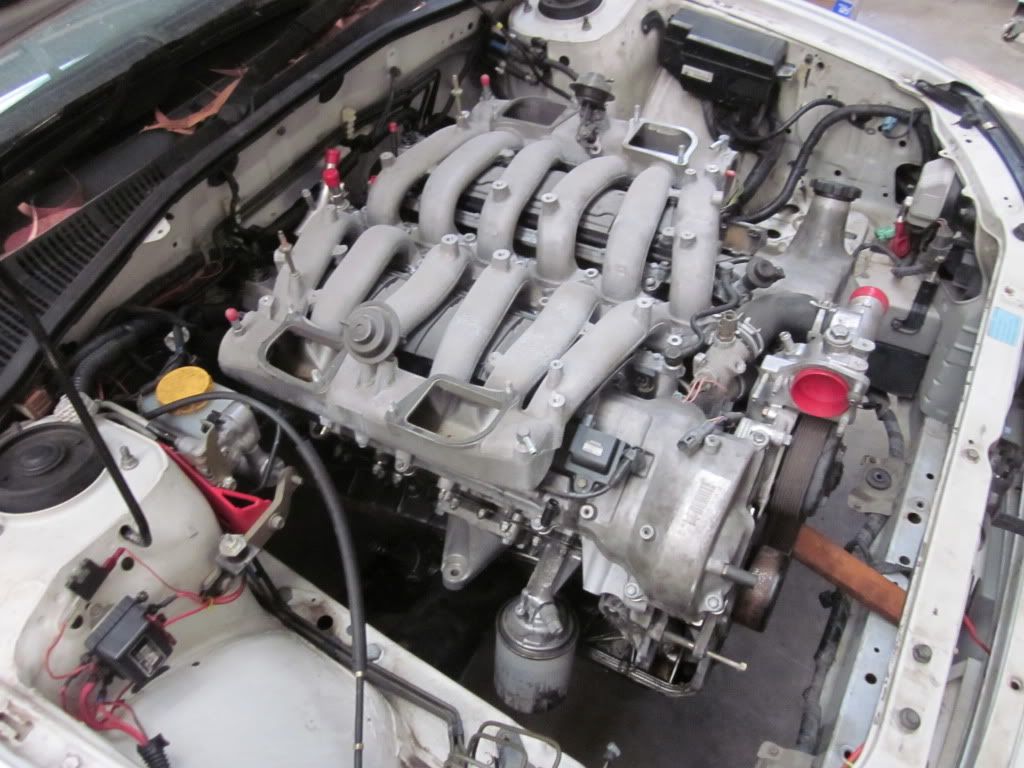 Bellhousing is enroute from Japan and will be mated to a TR6060 6MT from an LS1.
The engine will be run by a Vipec V88 or Haltech PS2000, which ever the owner wants. The manifolds will be modified to accept a pair of ford throttle bodies. I will use an electric water pump to simplify the bulky thermostat region. Will whack an R180 sti 3.545 diff and shafts in the back and see how they cope, if they fail I have an S14 rear end that is pretty easy to adapt to the Gen 3 Legacy rear suspension.
Did some work on the car this weekend. A boilermaker mate cut and folded a 3mm plate to fill in the gap in the X member that we cut out to clear the engine and I trimmed and welded it in yesterday and mounted the rack.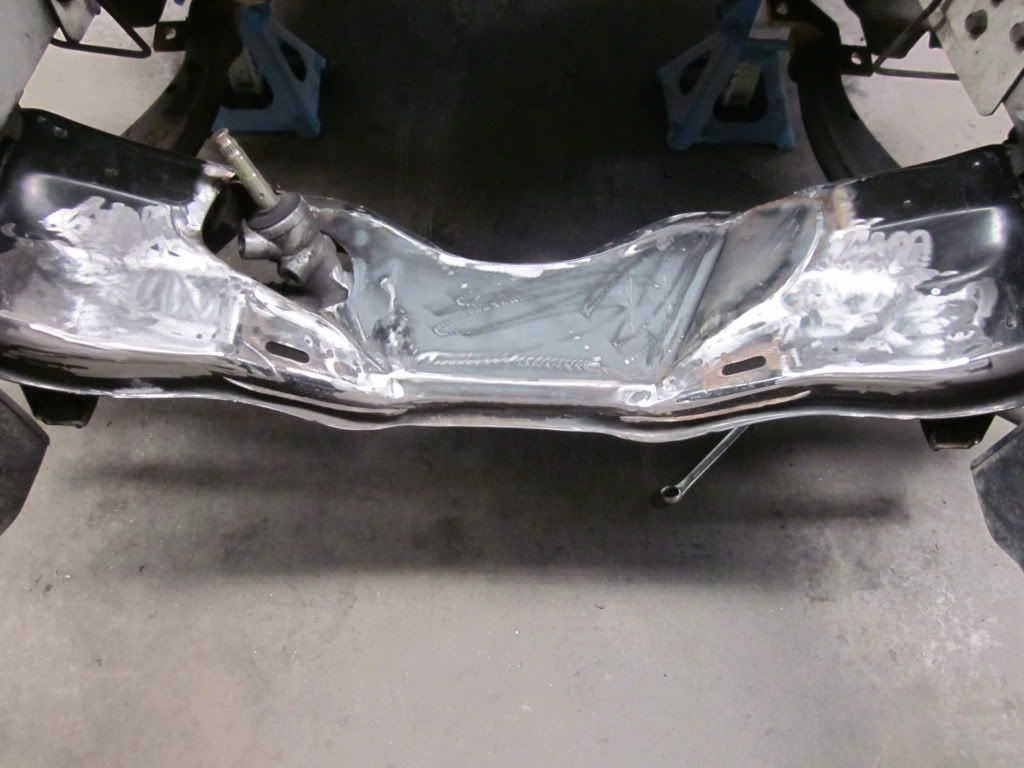 Std and modified crossmembers.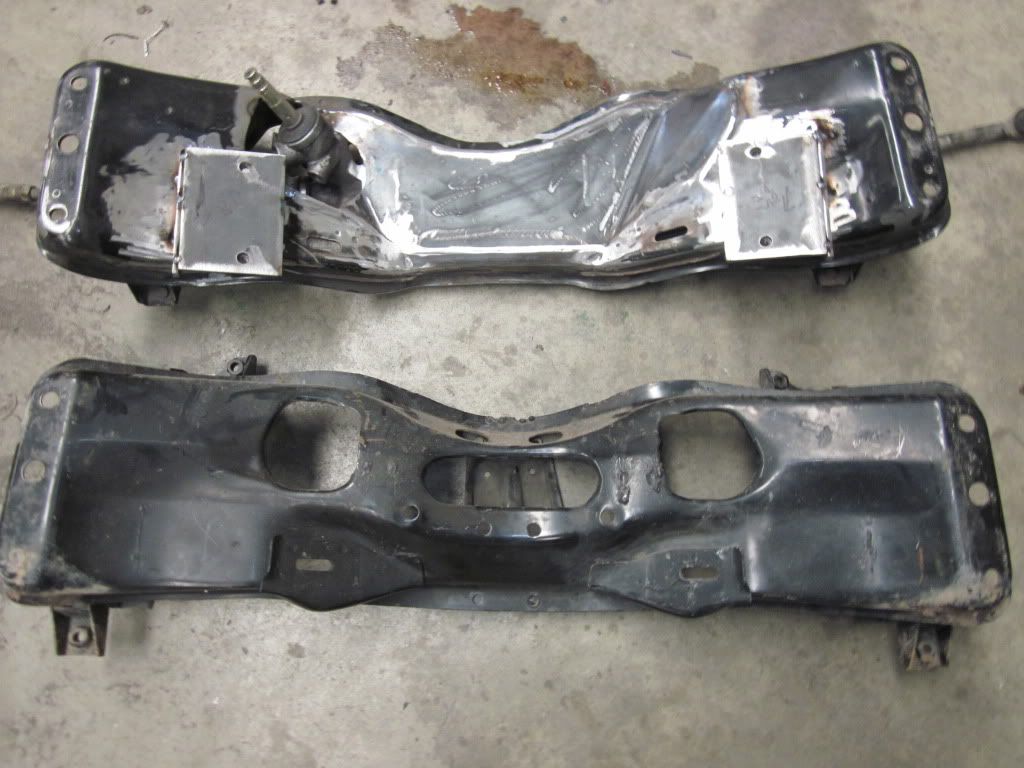 LH engine mount. Rubber mounts are diesel patrol.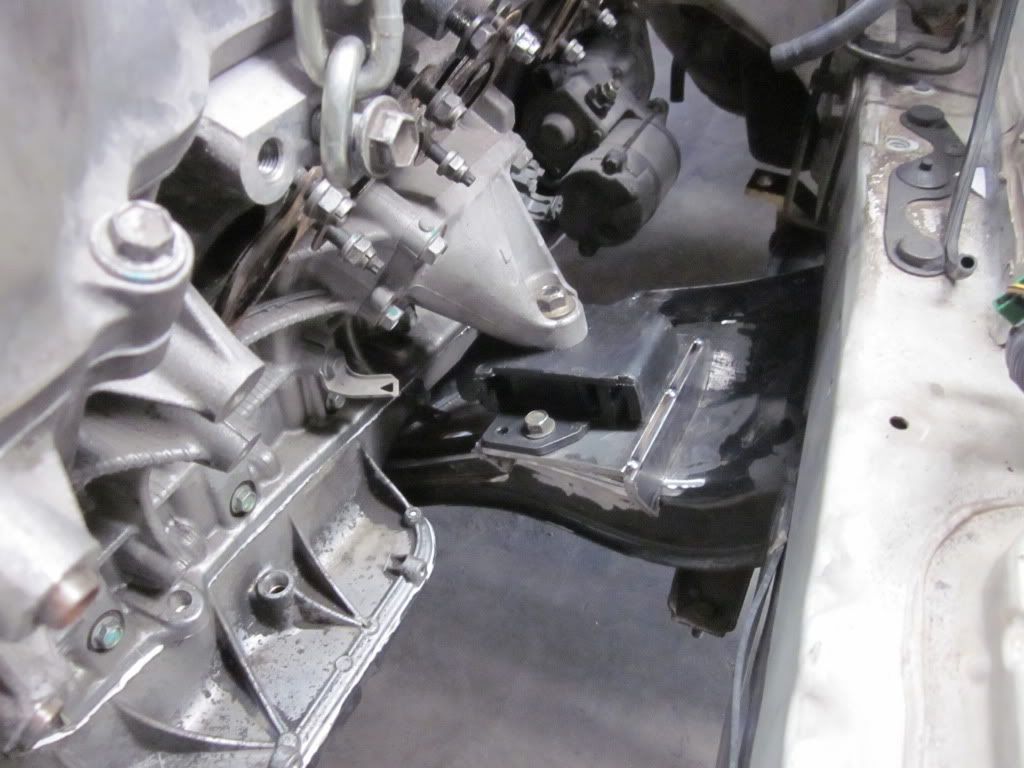 RH engine mount.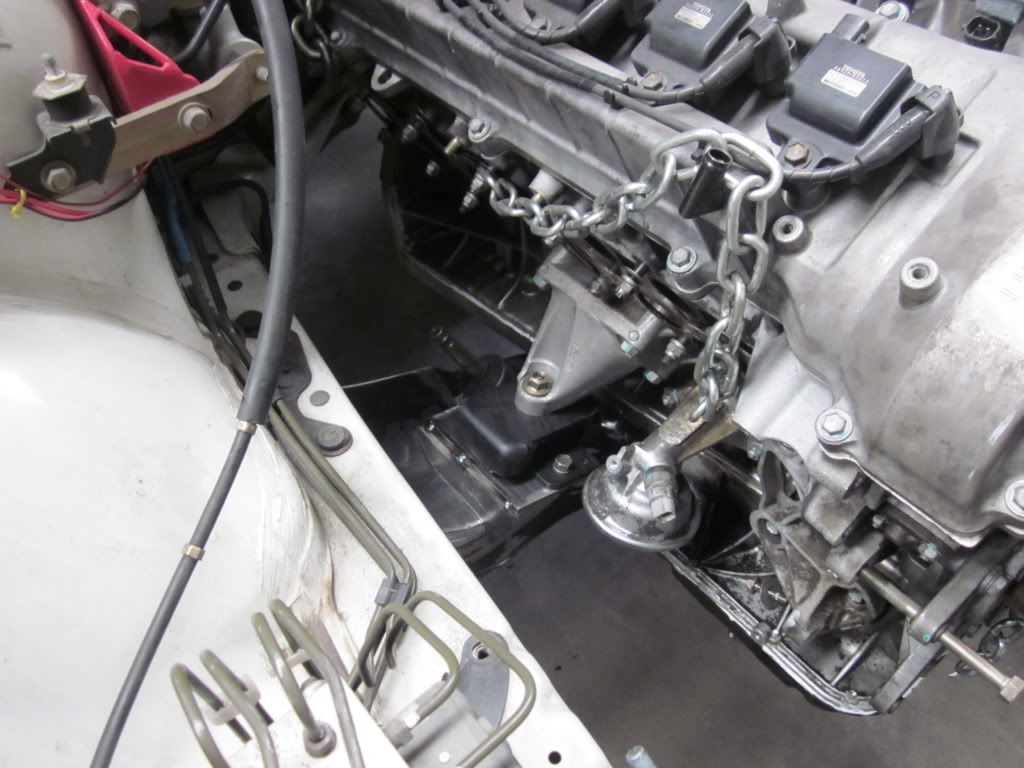 Engine sitting on it's mounts. I haven't welded the mount brackets yet as I want to move the engine over to the right a bit more, this will require a smaller diameter booster off a different model subaru.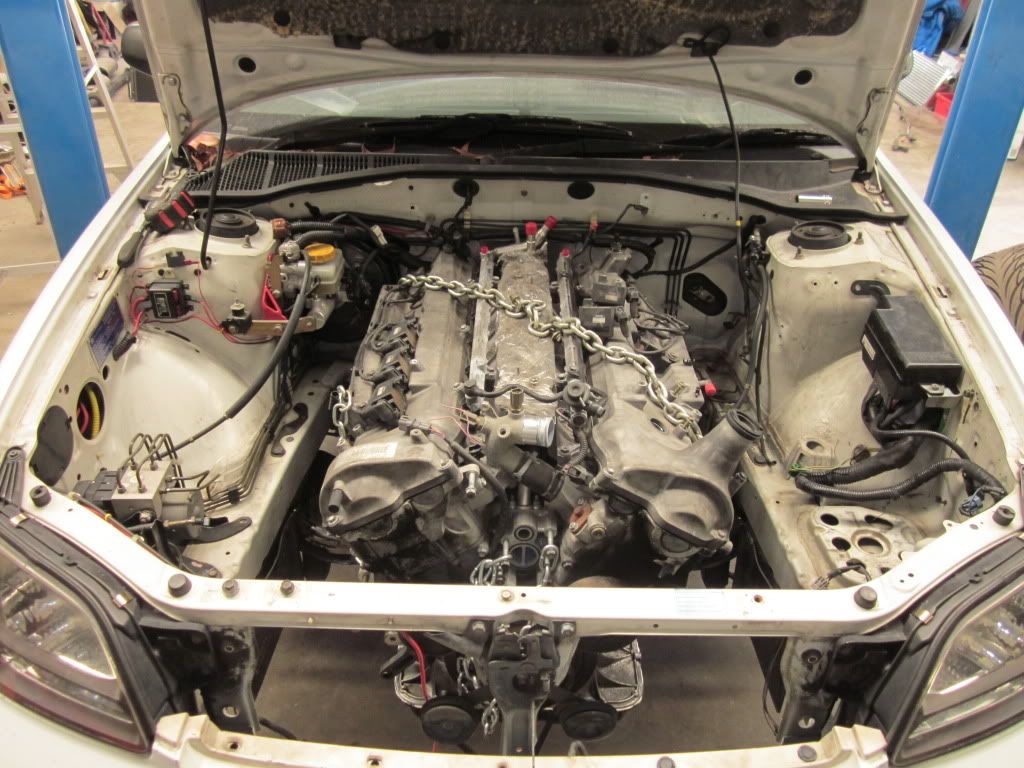 Changed the booster tonight, gave me a heap more room and the engine is now dead centre ready for a gearbox.
Starting to think about clutch master cylinders now.
Collected a few more parts this weekend.
Turbo 400 with adaptor plate for A340, That's a 2JZ bellhousing, haven't got the 1GZ yet. Just been rebuilt with a new drum, extra clutches and larger sprag. Needs a custom converter once I get the bellhousing and some dimensions.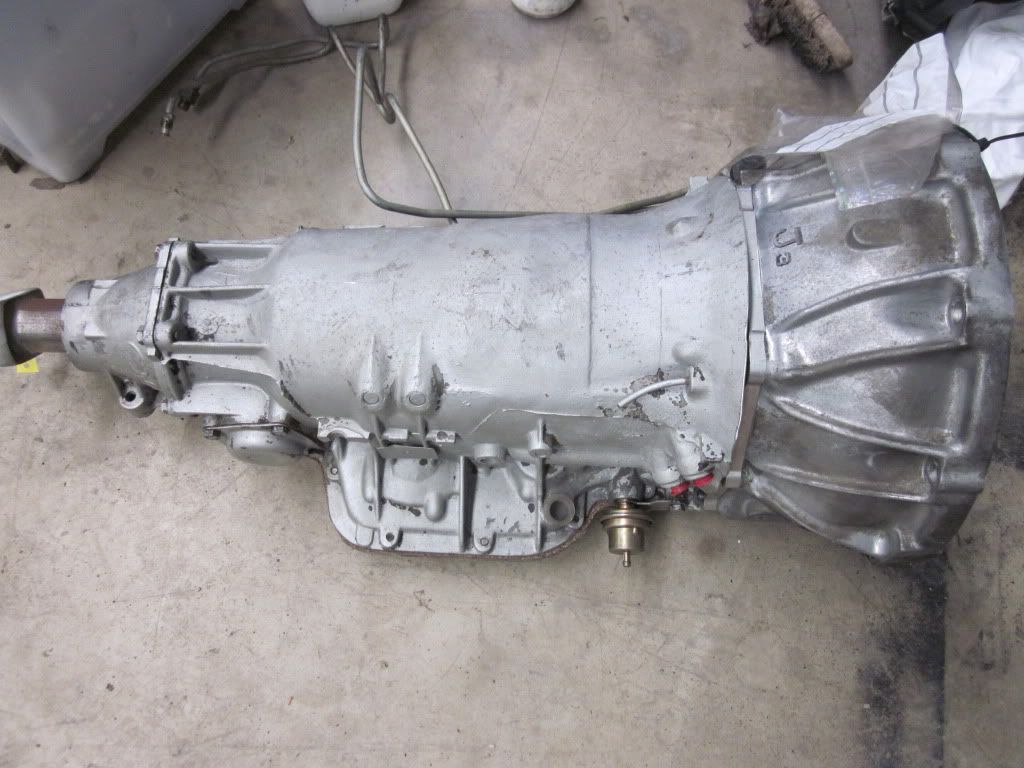 Cracka(car owner) did some work cutting off the plenums in preparation for some tapered custom jobs.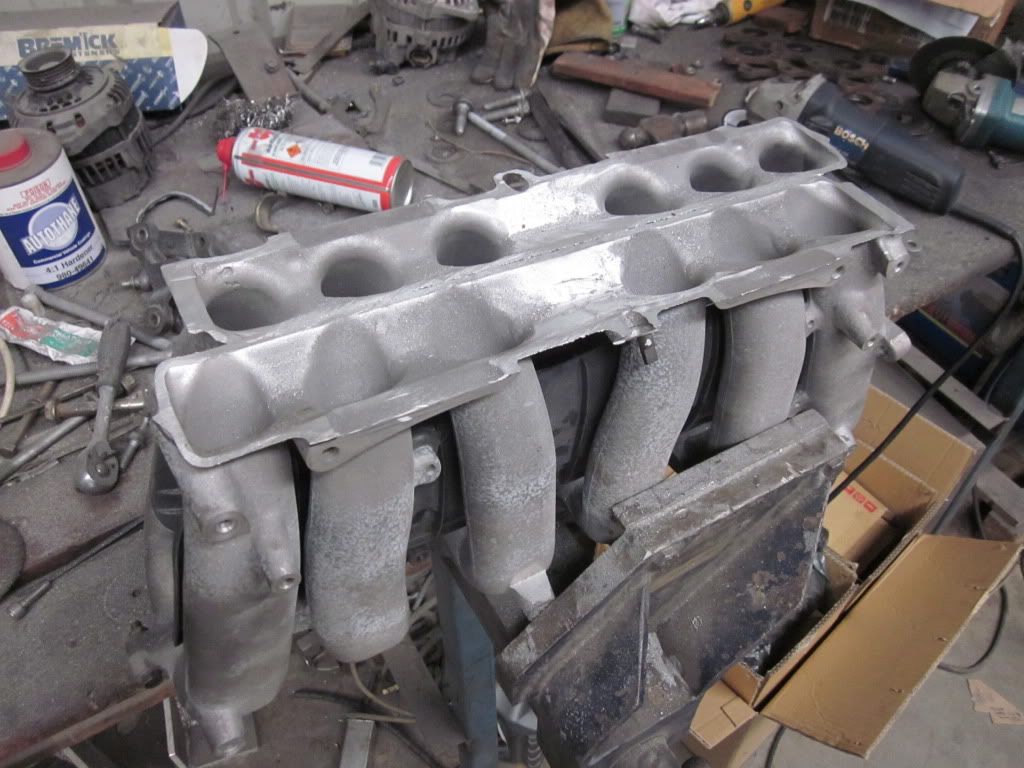 He also delivered the TDO6SL2 20G's and tial 38's.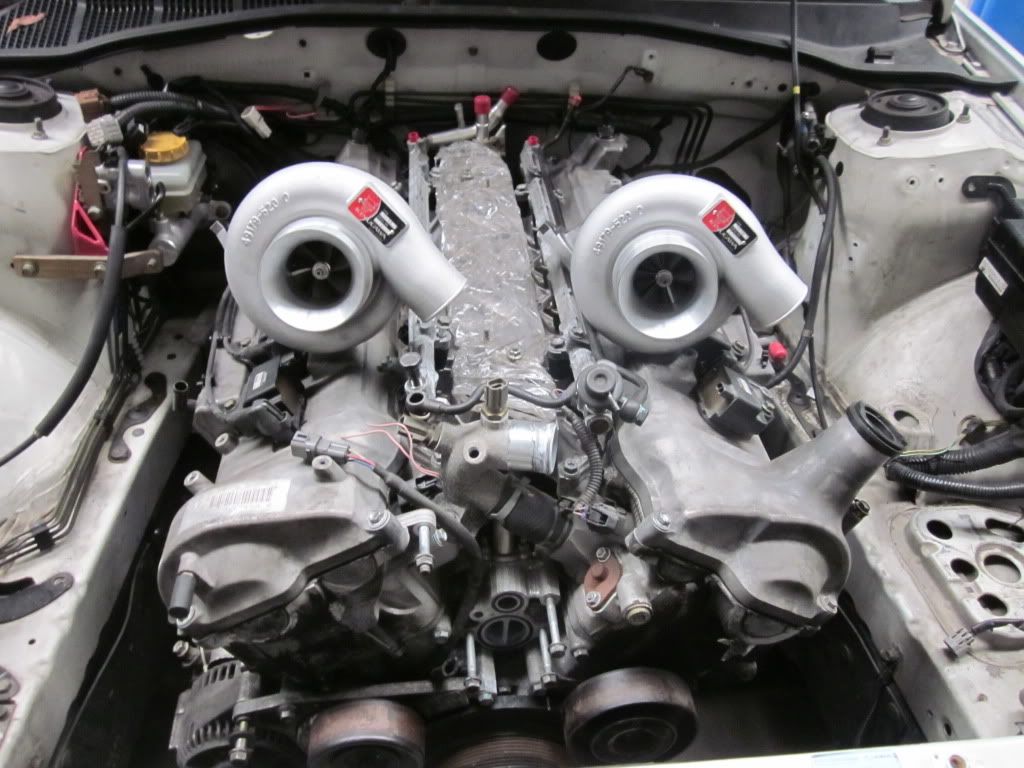 Here's a shot showing the current effect of engine weight on the car. With the subaru drivetrain it sat level. Still the T400 and turbos etc to go but it gives a bit of perspective on engine weight.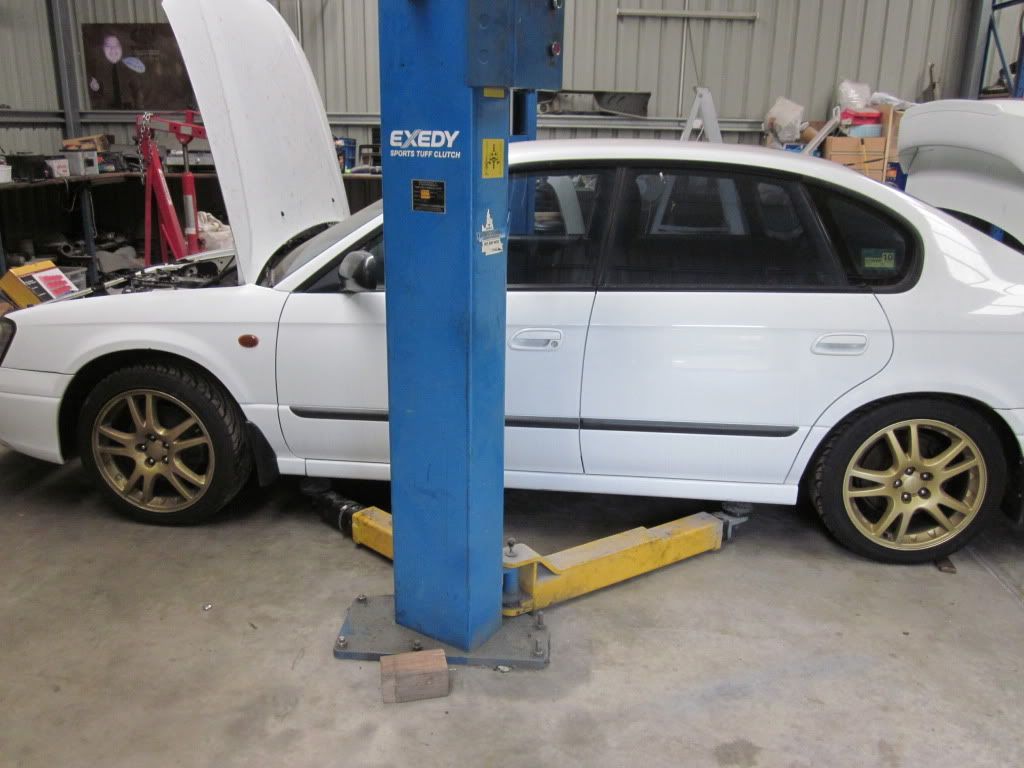 Collected some more shit.
Plenums. Still deciding on these. The oil filler is coming off anyway as it is too close to the bonnet.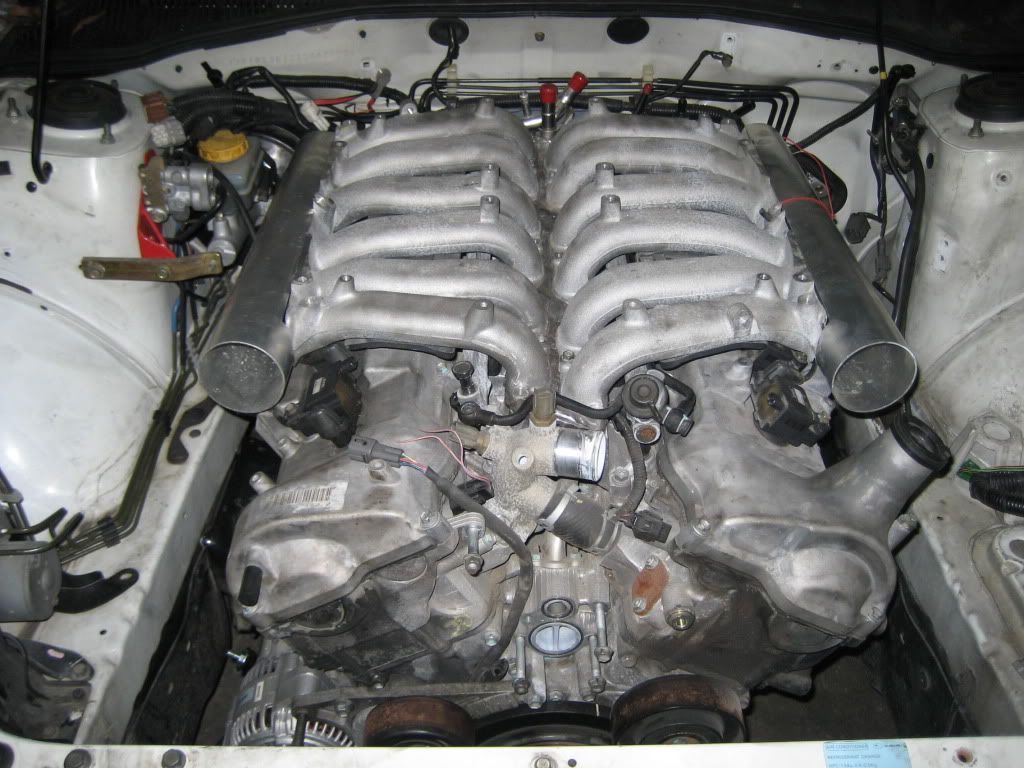 Cooler.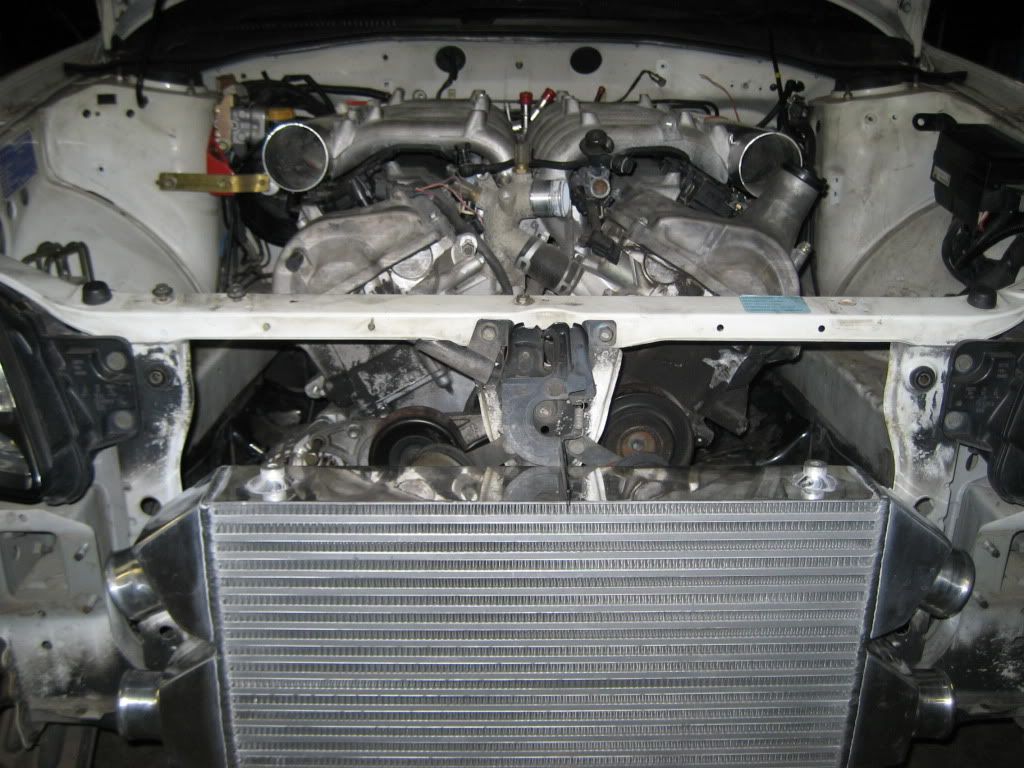 Exhaust manifolds. Still in kit form.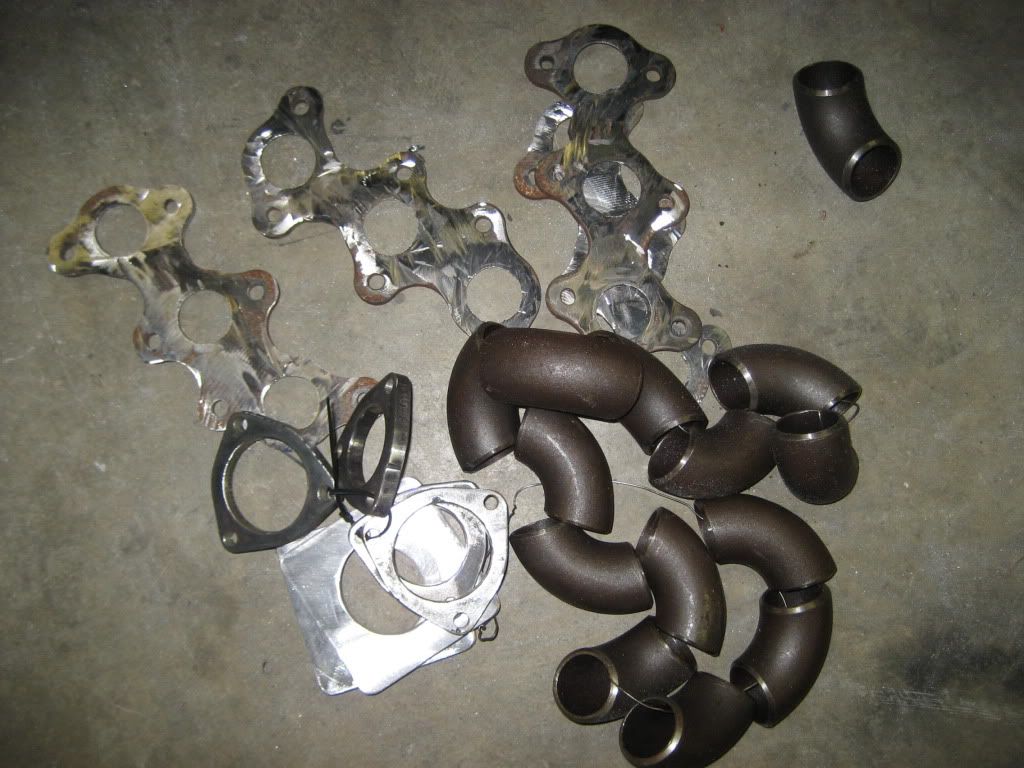 I have everything I need to get cracking on this over Xmas break, bellhousing arrived, V88 ecu should be here today.
Fitted the T400. Had to trim the original gearbox xmember mount to clear the box but fits fine otherwise.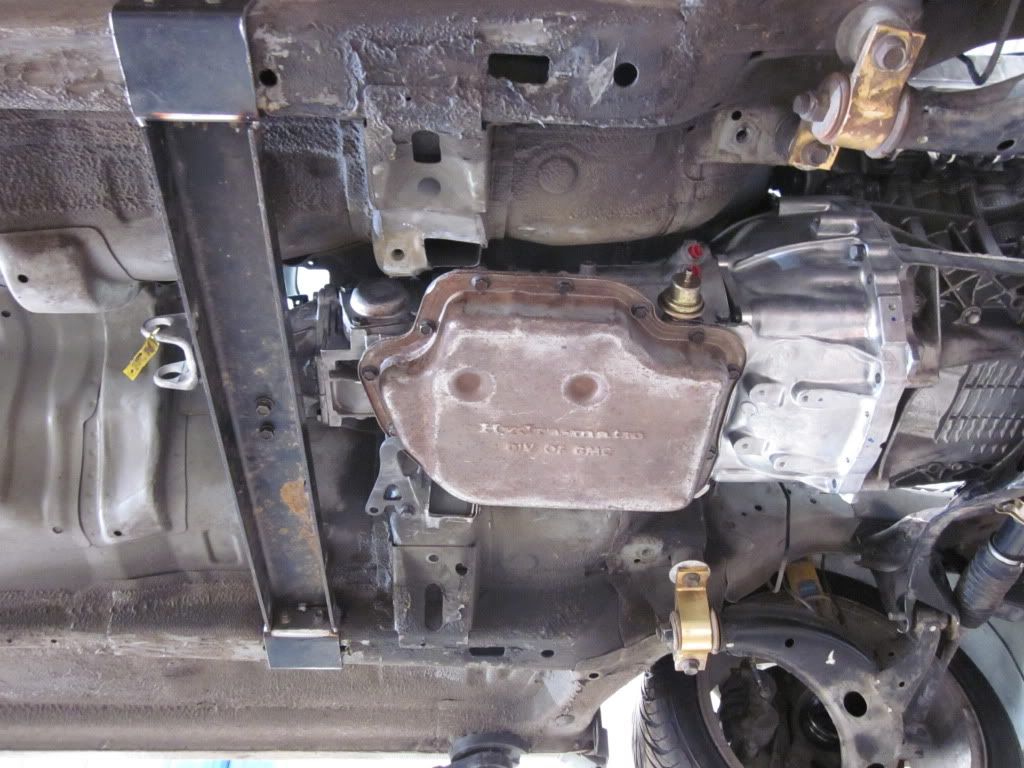 Made a crossmember that clamps to the chassis rails.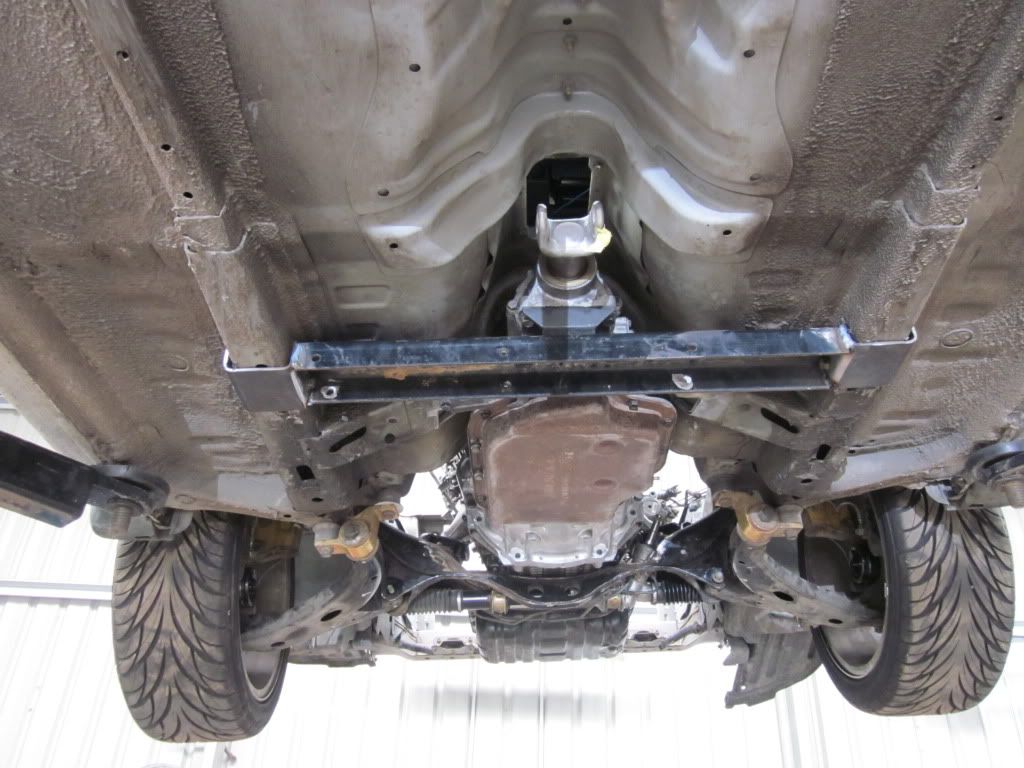 Crush tubes welded into the chassis rail.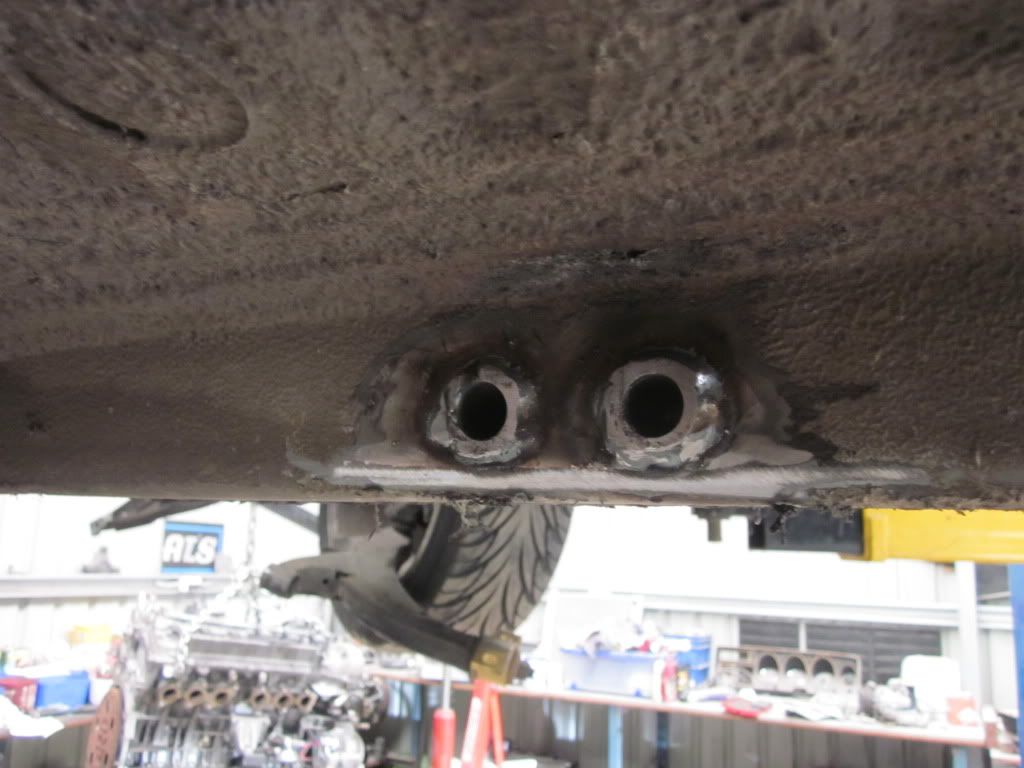 Finished the engine Xmember.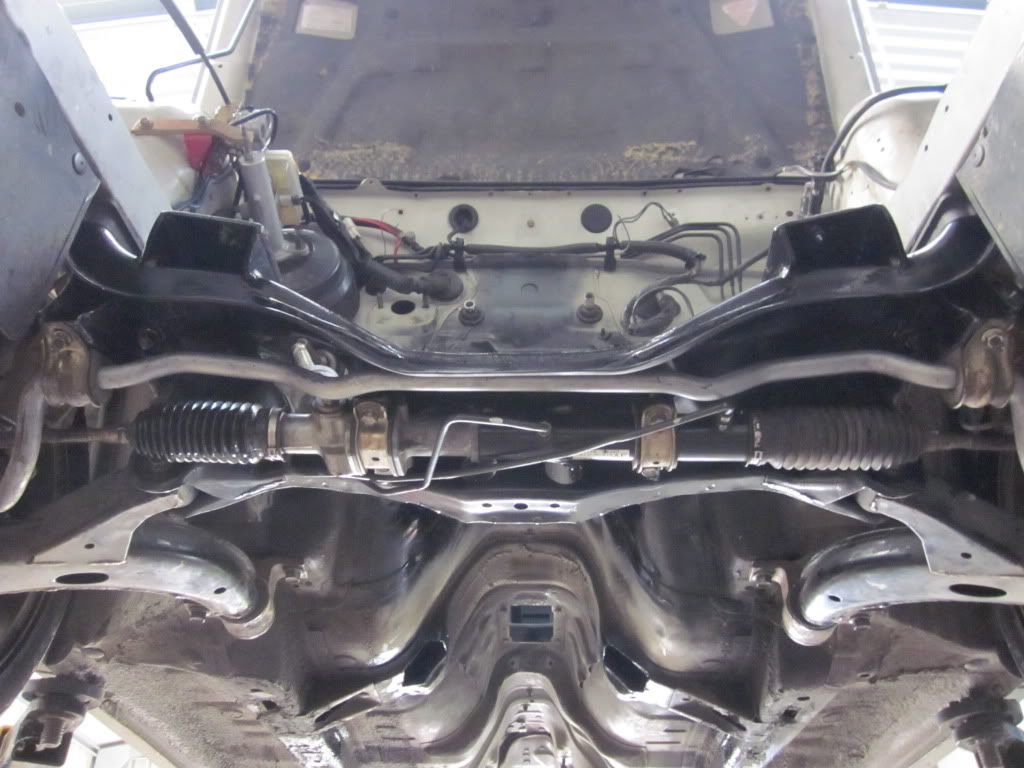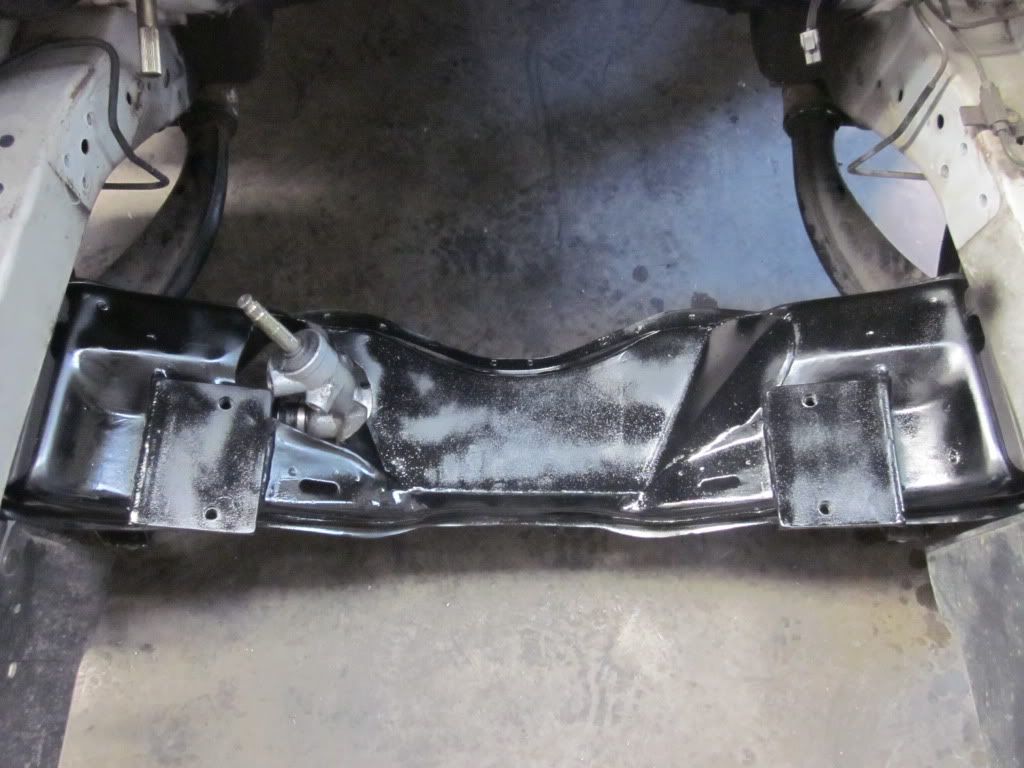 Got some stuff done today.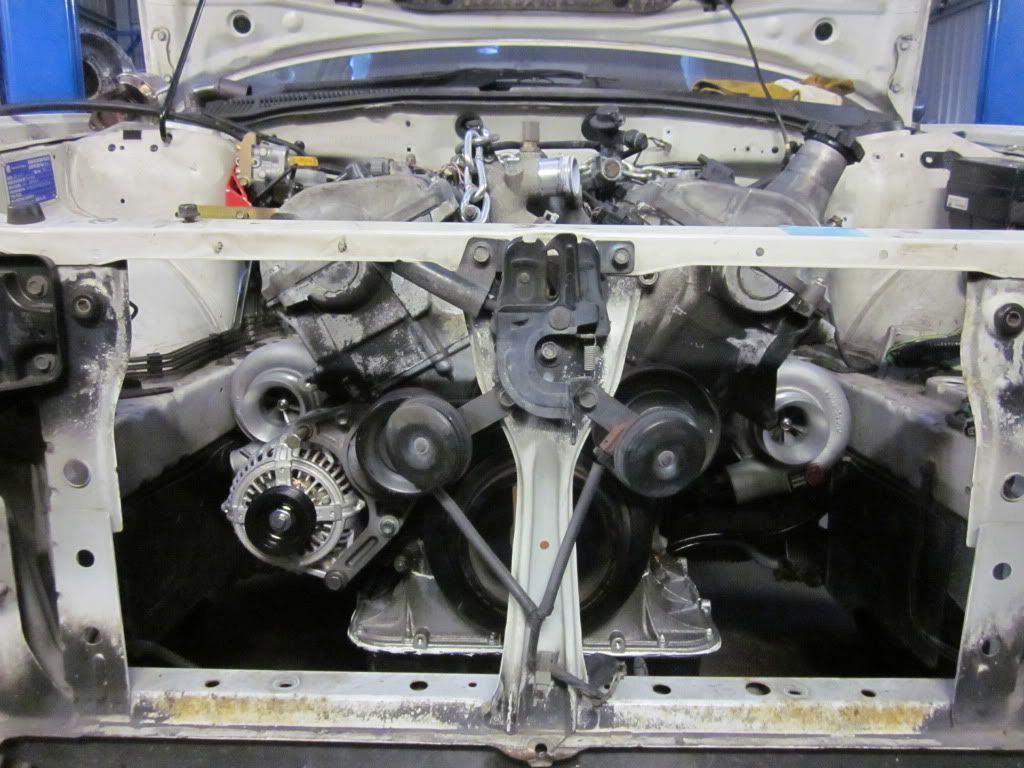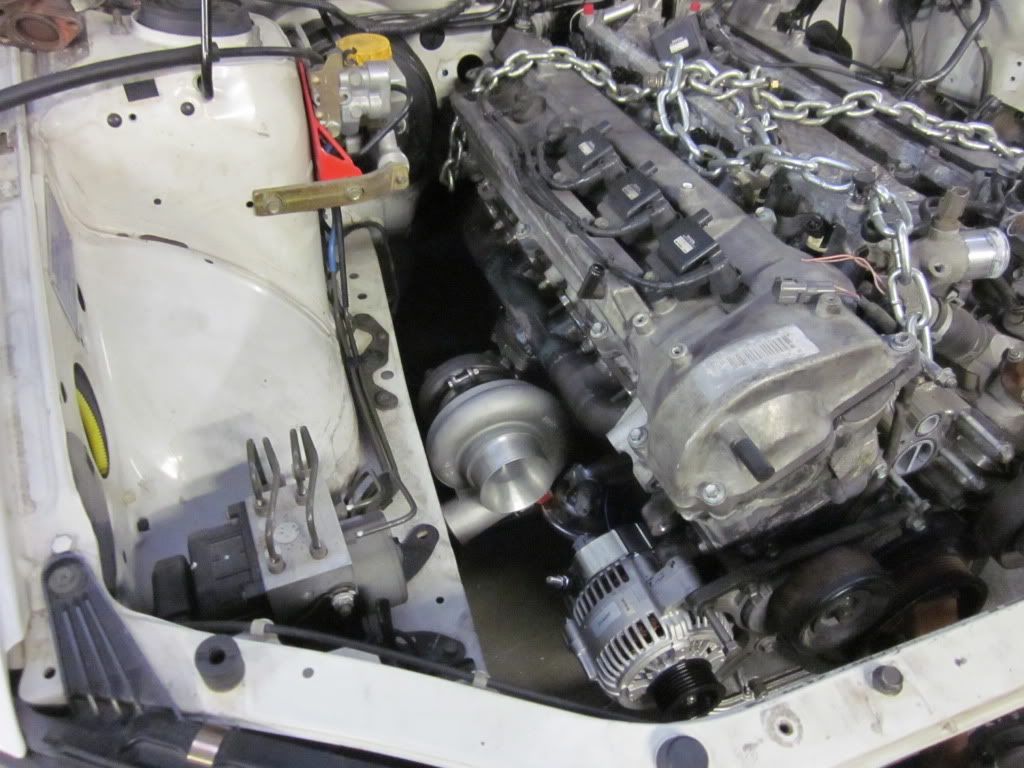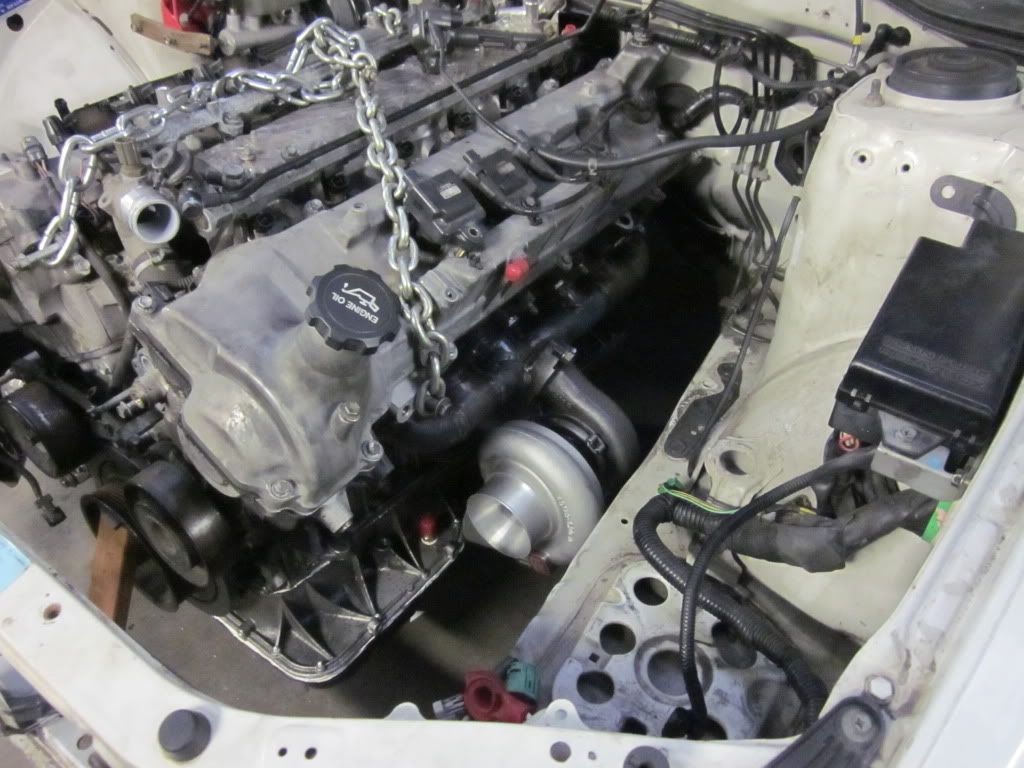 Wastegates go here.
Log manifolds, won't somebody think of the children!!
A bit more work done between Xmas activities.
Wastegates mounted. Passenger side turbo is all mounted and plumbed ready to go. Drivers side is a bit trickier due to the oil filter housing.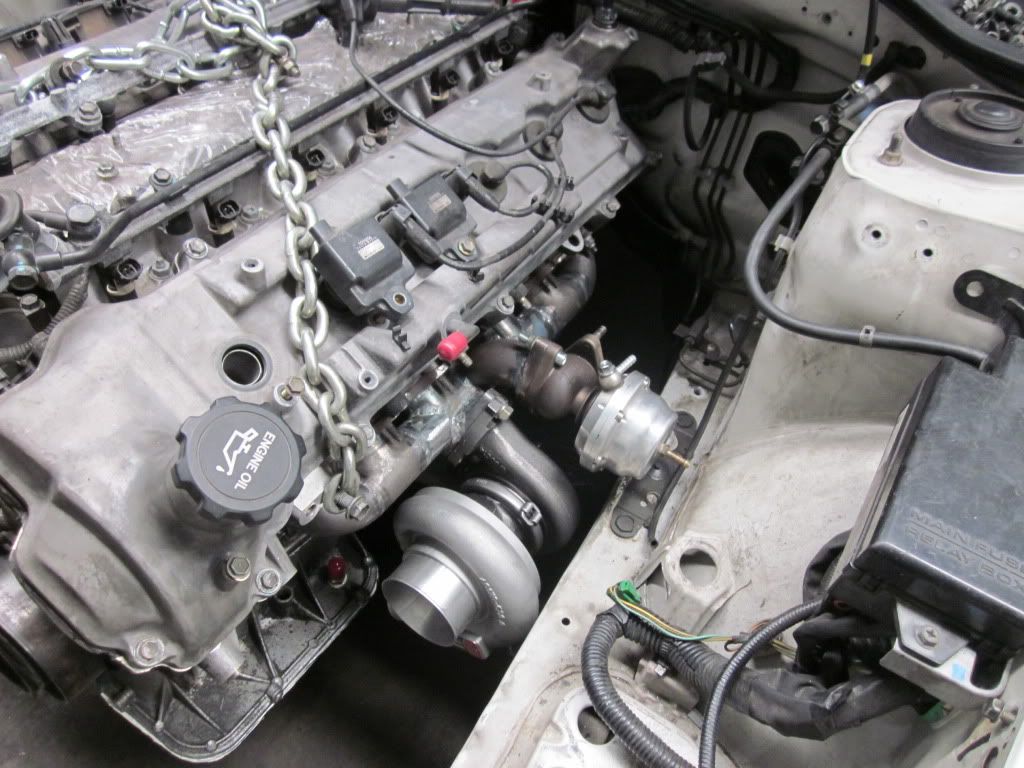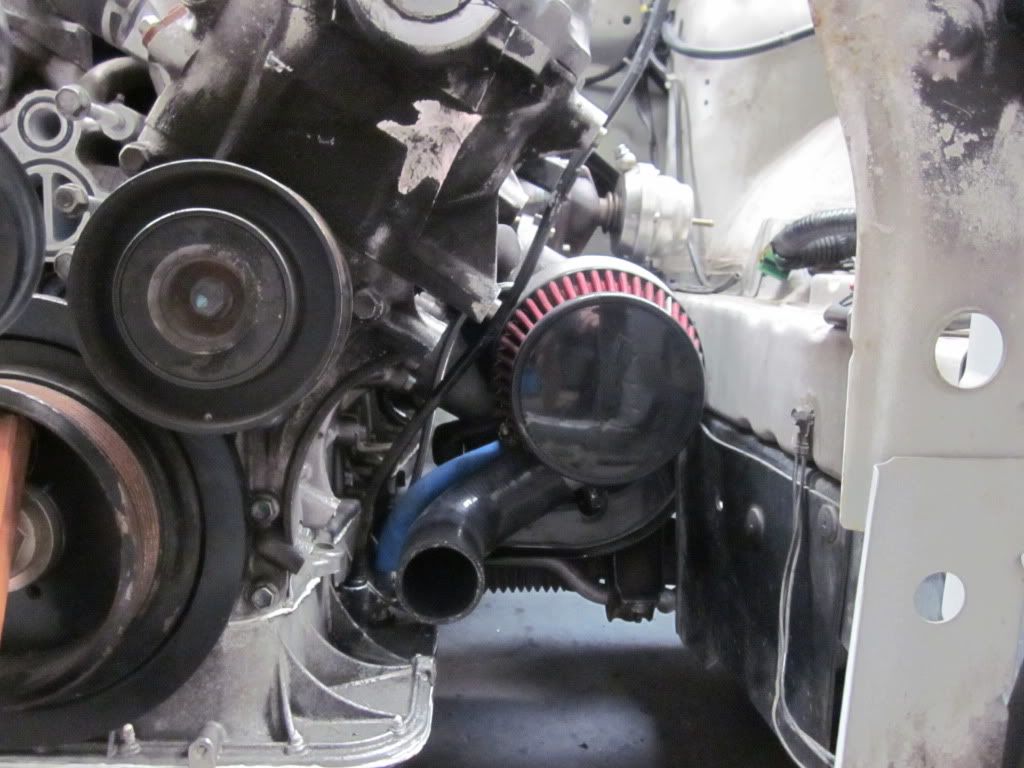 Rear underside.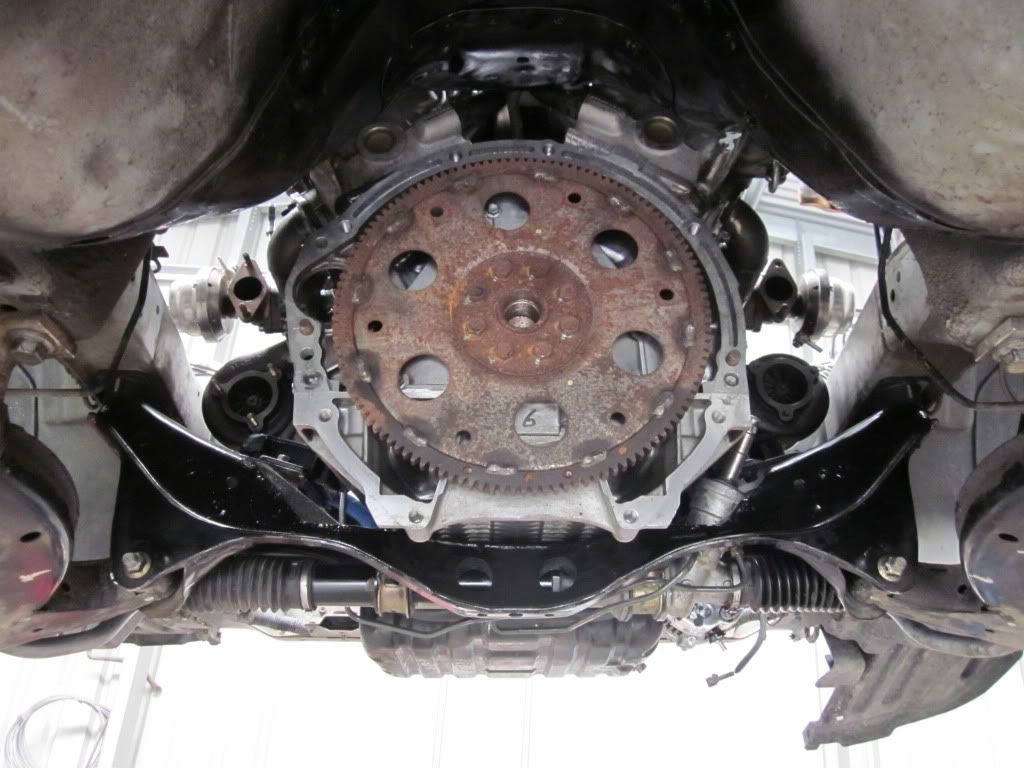 Front underside.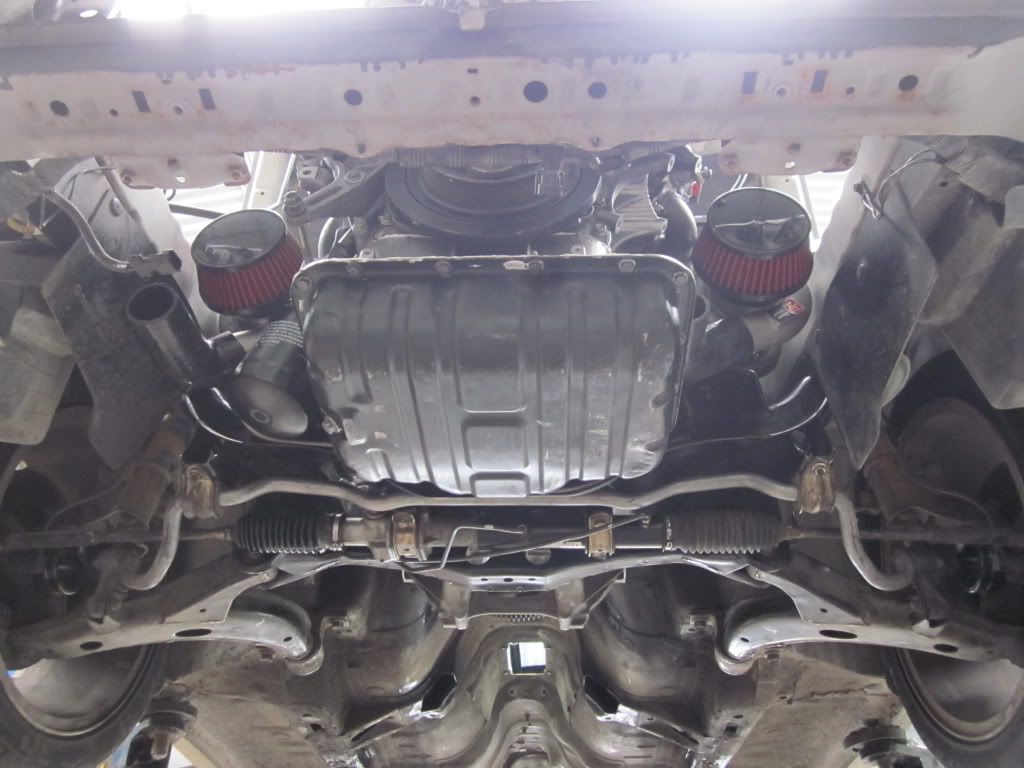 Overhead view.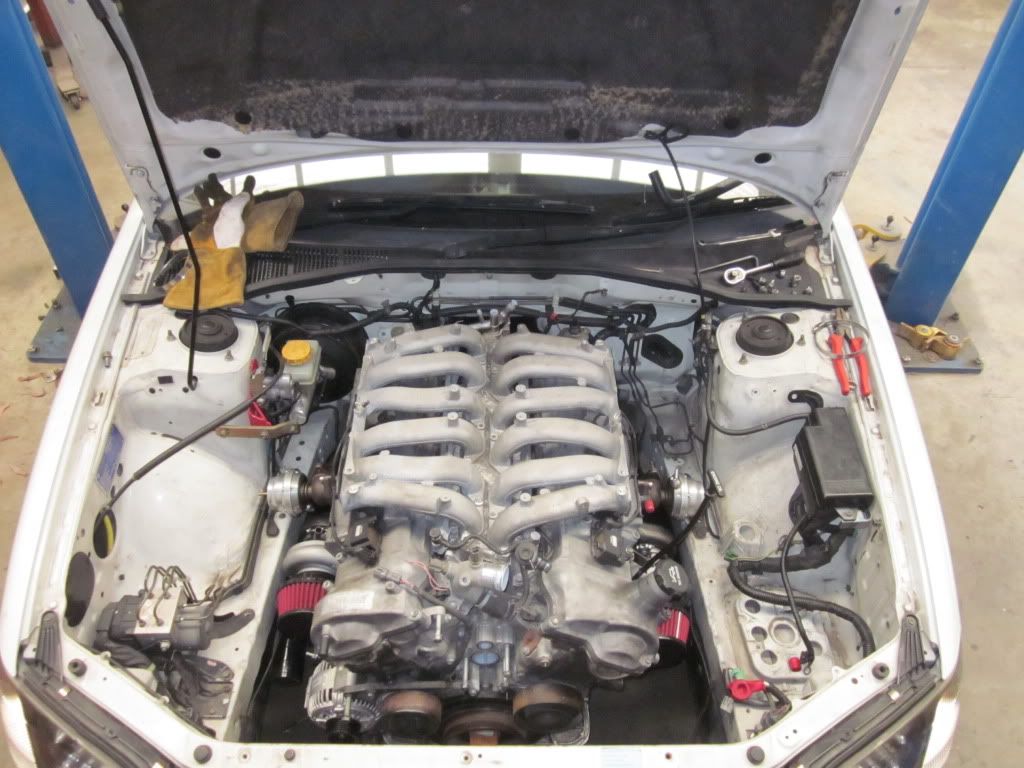 Intercooler and piping.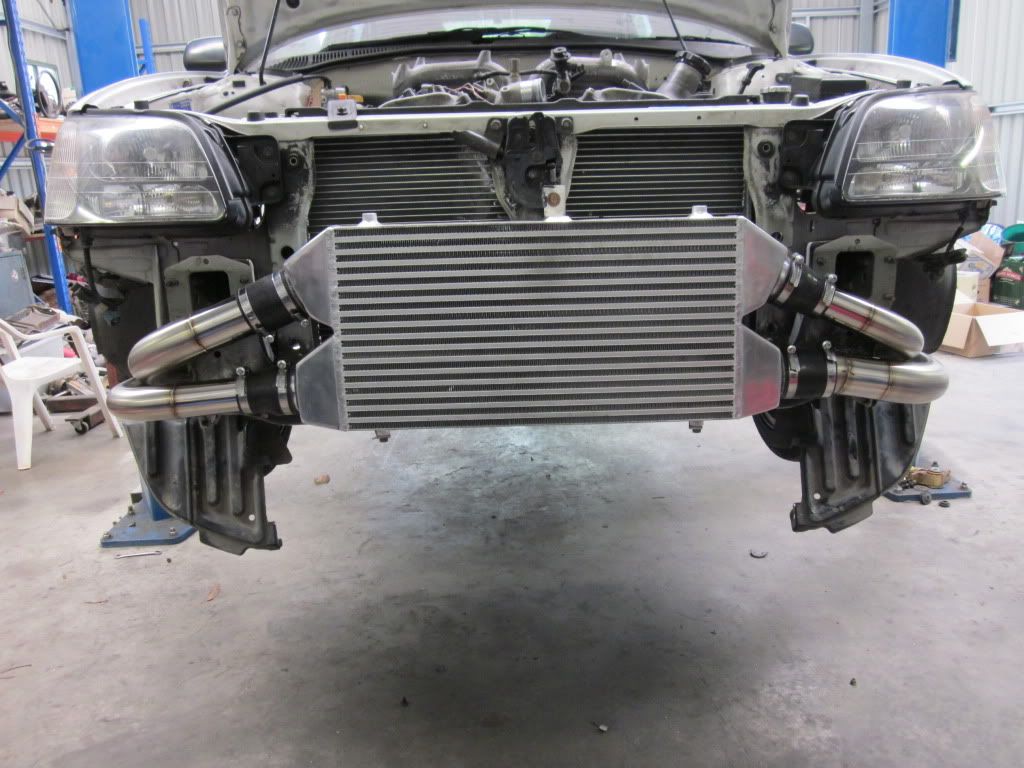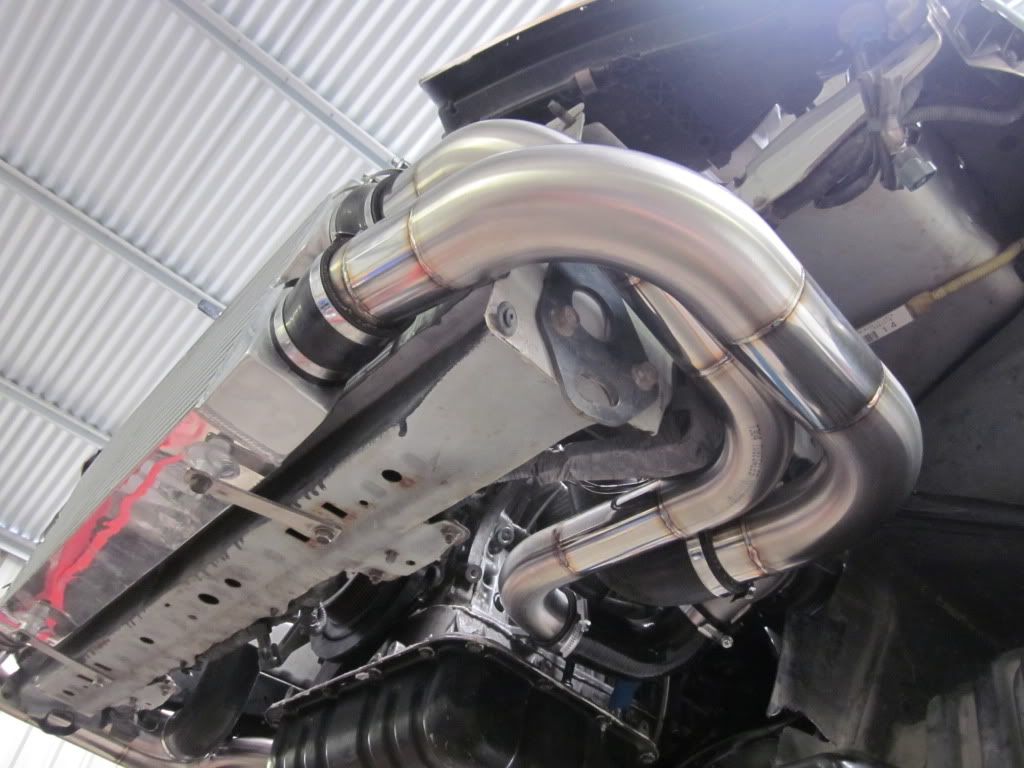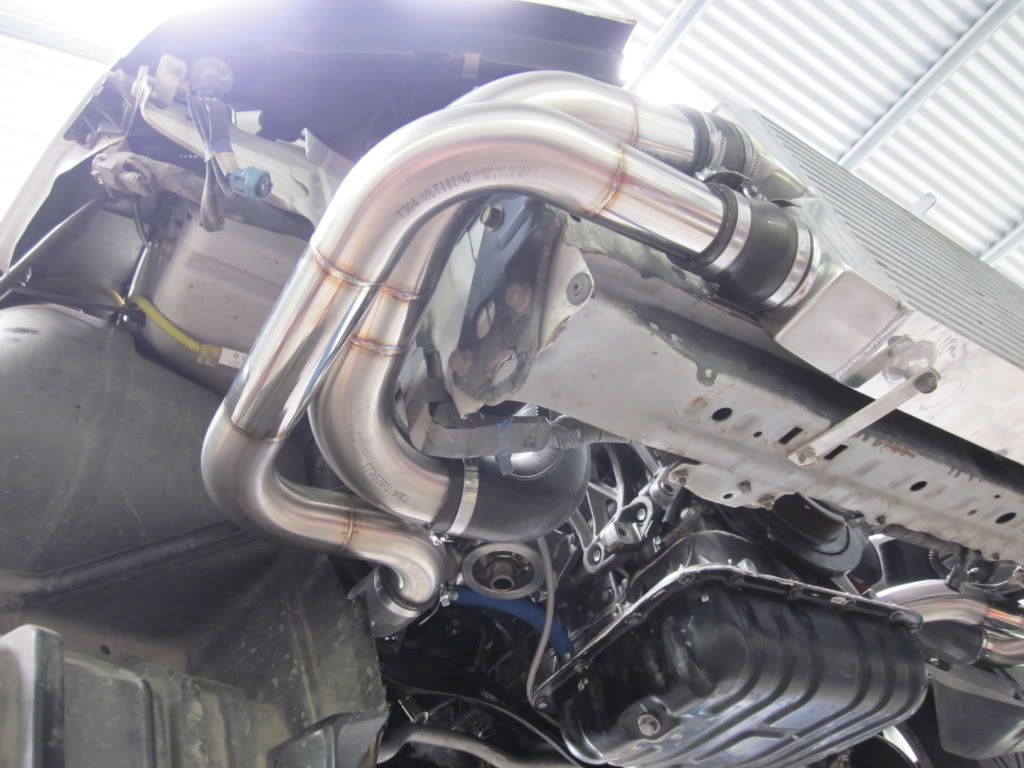 Just a bit of fiddling around today. Had to make an adaptor to fit a different oil filter as the original filter was enormous and fouled on the compressor cover.
I turned up some bits in the lathe and then tigged them together to rduce the thread on one end from 30mm to 24mm.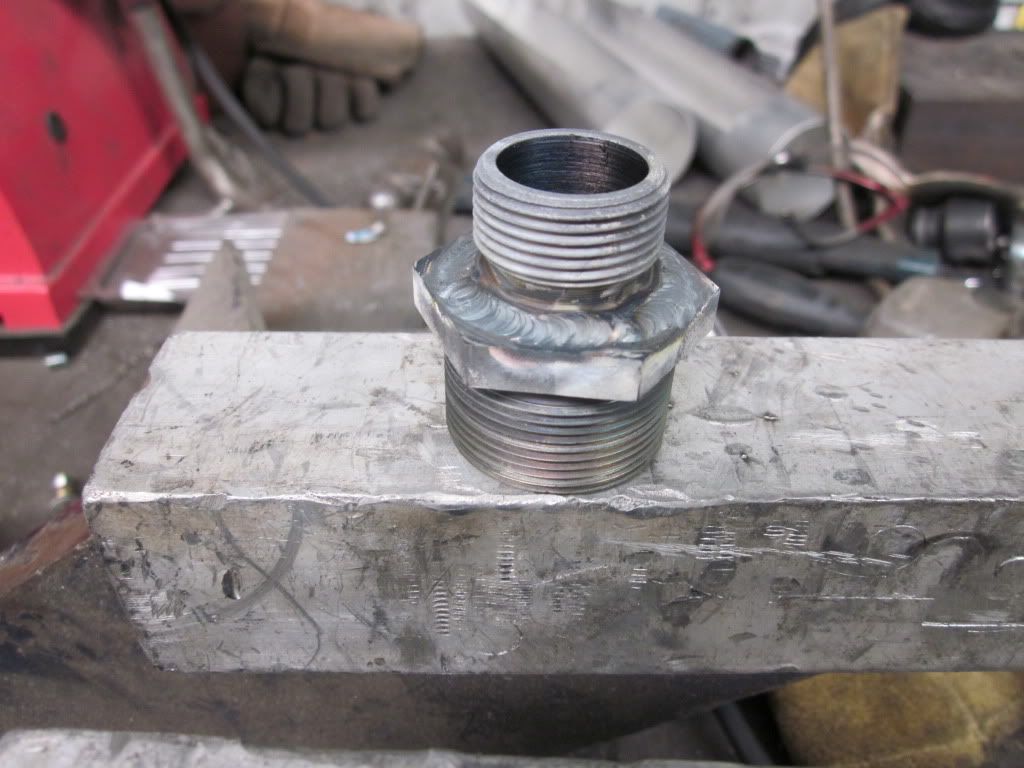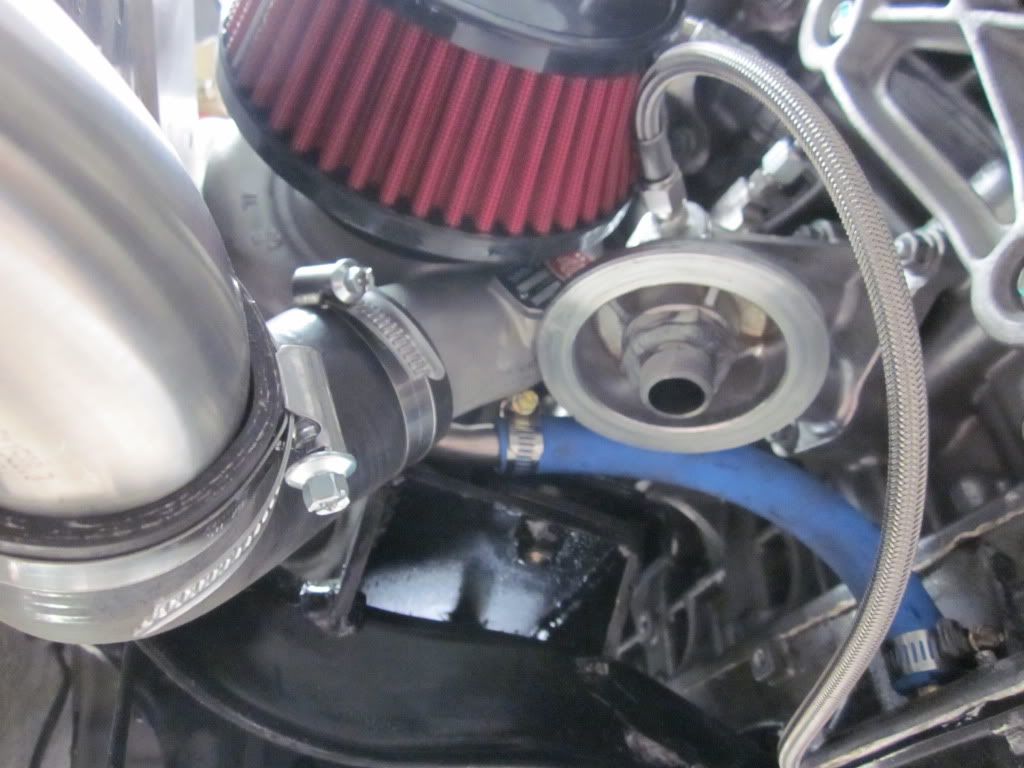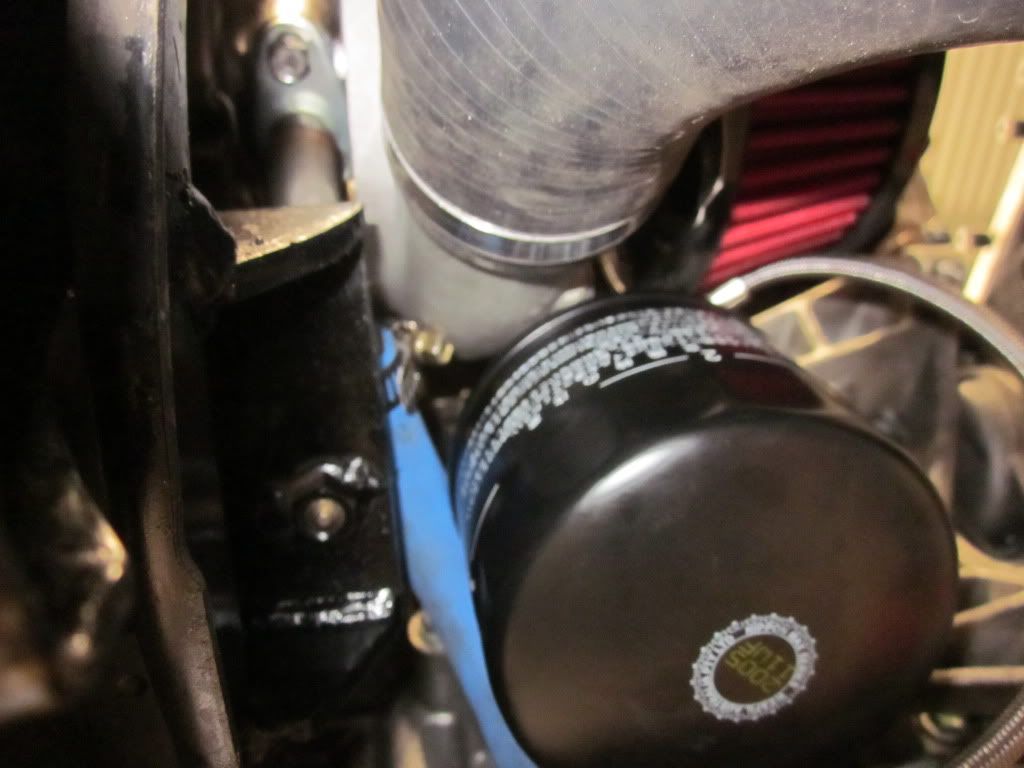 Awaiting exhaust parts to get that welded up tomorrow.
Did half the exhaust today. Would have got more done but had to remanufacture an alloy race sump for a mootec speedway car.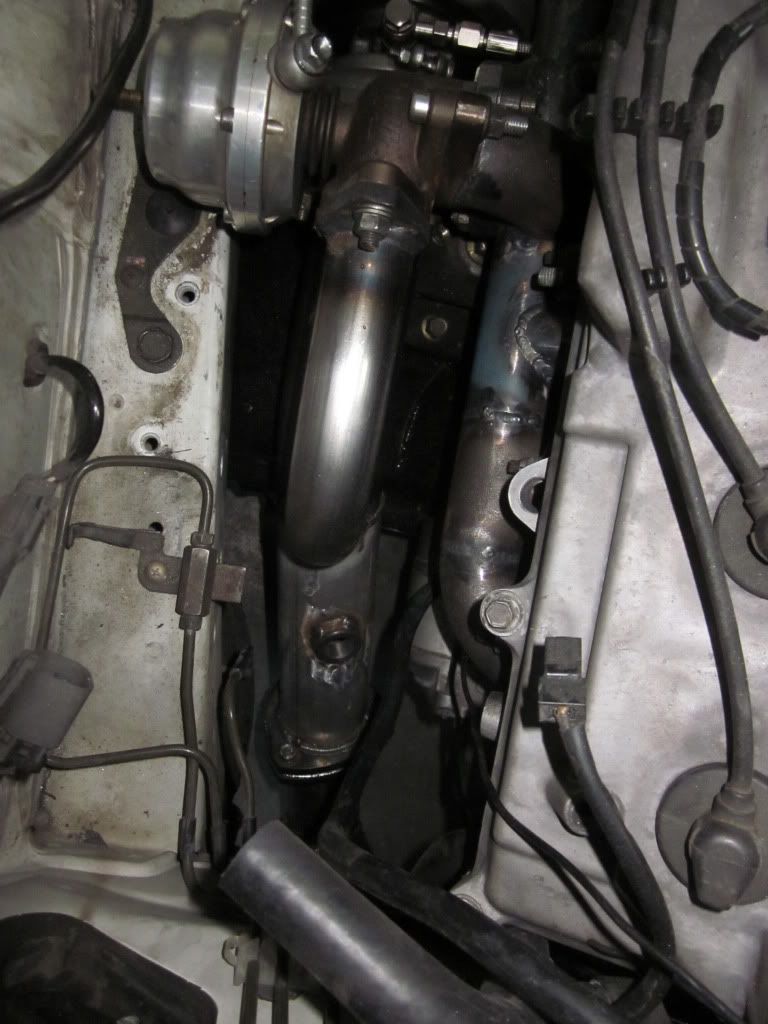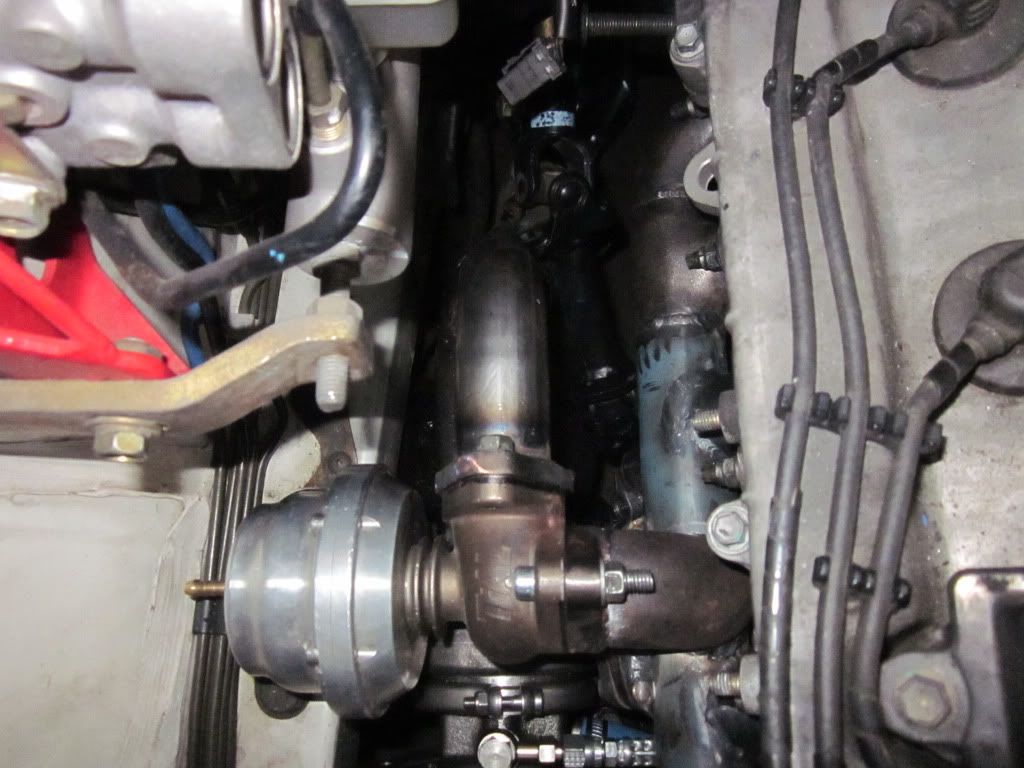 Dash is also out as I had to reroute the heater pipes and pull some unused wiring back through the firewall. Pro Ratchet is in position.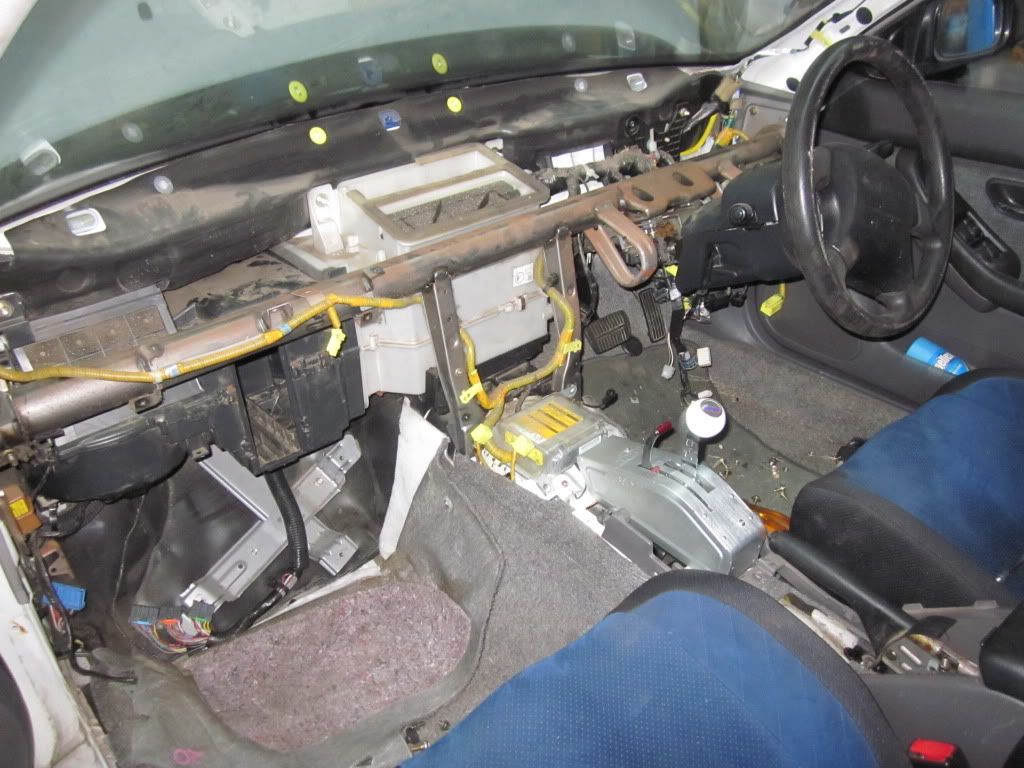 continued