Ok. Yes. Its a Magna.
Now that we're past that I can go on to explain that although it started off life as TF Altera LS with the 3.0l V6 and 4sp auto it now has parts off a TF, TH, TJ Sports & VRX, TJ Ralliart, KH Verada, KJ Verada.
More mods are on the way - HM headers, foglights and inserts (long overdue), Boges shocks (long overdue), whiteline rear swaybar, ralliart\380 cams and a trip to SKR in S.A for dyno tuning.
Current Ride:
1998 TF Magna Altera LS
Engine Hardware:
3.5L 6G74 SOHC 24 Valve V6 (TJ series 2 - No. 6 cams) - Engine conversion
Transmission:
Manual
Engine Modifications:
2x Lukey Turbo Exhausts
2x 3.5in Straight Cut Tips
K&N Panel Filter
Ralliart flash tune
Driveline Modifications:
Manual Conversion
RPW Short Shift Kit
Exedy Clutch Kit
Brake Modifications:
DBA Street Series Slotted Rotors
QFM HPX Front Pads
QFM Super X Rear Pads
Suspension Modifications:
Pedders SportRyder Springs
Boges Sport Shocks
Wheels & Tyre Modifications:
Wheels: 18" HP Design ONYX
Tyres: Hankook Ventus V8RS 235/40/R18 XL
Body Modifications:
Two Piece Parabolic Headlights
Narva Blue Power +90 H7s
Calibre 4500k H1s
380 Clear side indicators
TH Magna front bumper with VRX Front Bar
Ralliart Side Skirts
Letterbox grille, mesh lined with chrome Mitsubishi badge
380 Washer Nozzles
KF Verada tail light and boot lid lights.
Diamante chrome garnish
Interior Modifications:
VRX black carpet and lower door card carpet
Black dash and door cards
Climate Control conversion
Trip computer conversion
TJ Sports seats and door inserts
TJ Sports series 1 white cluster
Verada Bootlid liner
Leather gearshift boot
In Car Entertainment:
H/U: Clarion DXZ786USB Single Din H/U
Fronts: Focal 165V1 Splits
Rears: JVC CS-V6945 6x9s
Subs: 2x Clarion DP12XS 12inch 600w subs in custom carpeted enclosure
Amps: Clarion APX1300 Monoblock
Focal FP2.75 Amp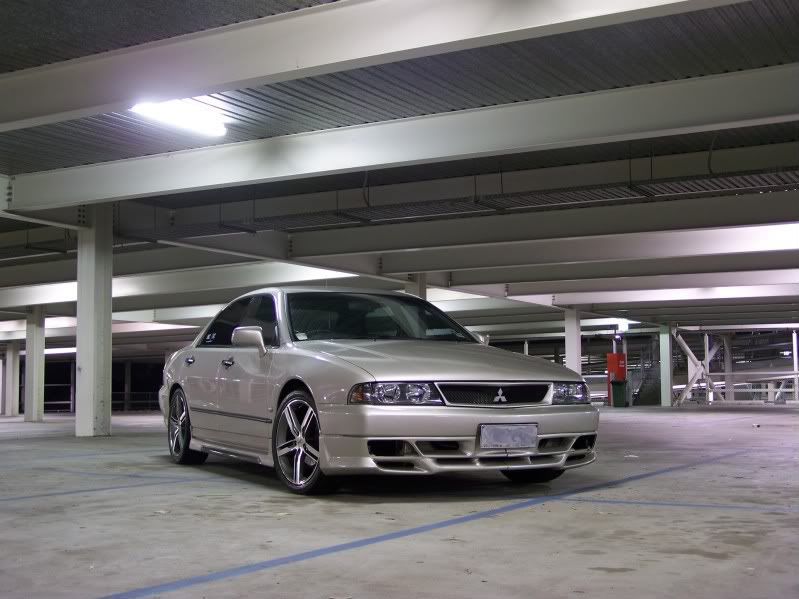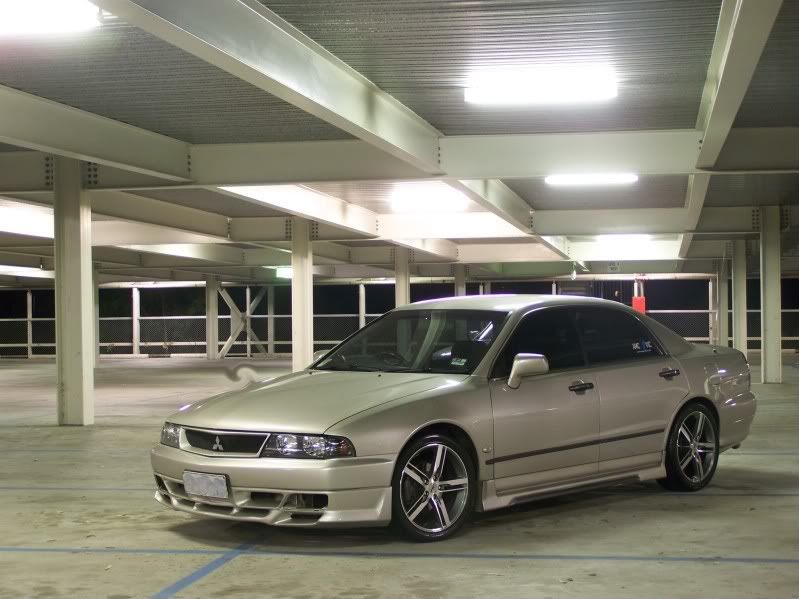 Shots taken are pre manual conversion and have the old seats, dash, doorcards and inserts, climate control and trip computer. New interior has the EL dials and neons removed. New pics up soon.