So I have been slowly doing a few things, and organising a few little bits for my FTO.
So I thought I may as well chuck a build thread here for it. Not sure if many people will be interested in it, but I thought I would do it anyway
I purchased this earlier in the year, as I needed a manual car to learn to drive, and I fell in love with these cars a couple of years back.
I started my search when I moved back to New Zealand mid last year, and didn't find much...
I took a look at some locally, and they where all thrashed, and in average condition, missing interior panels, and with damaged body-kits.
I then found one in Oamaru, an hour and a half drive from here, I went up there to check it out, and I was really happy with it's condition. But I couldn't get the money for it for about another month, and in that time it sold. So I went back to looking for something.
A month or so later I found the same car that I wanted in Oamaru for sale, but in Christchurch, which is about 3-4 Hours drive from here.
I sent the owner a message, and confirmed it was the same car as earlier, and put in an offer for it. The same day, my mazda MS6 sold, which meant I had the money to buy this car.
The next Monday, my Father drove it down from Christchurch for me
The car was 100% factory stock, with only 123,000 KMs.
Summary of how it was when I purchased it:
The good:
Low KMs
Sunroof
factory Momo air-bag wheel
Factory EL Steel kick-plates
no tears in the seats
The bad:
damaged, and off-colour front bumper
Blown front speakers
Since then I have thrown in a new head unit, de-catted, front speakers, Pod Filter, new Viper Alarm, and a Cusco front Strut brace went in last week.
I have also received my new front bumper, that should be fitted and painted within the coming weeks
some pics from just after purchase:
Then it got decatted, and a new pod filter:
New Viper 5906 Alarm/Remote starter got installed:
It's a pretty cool unit, and I got a few accessories for it too, proximity sensor, shock sensor, window roller, and a few other little bits.
A quick average video, but it shows the basic unit: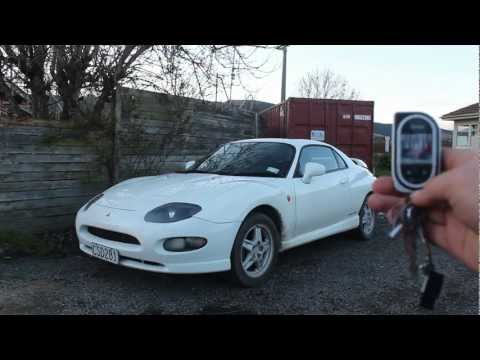 New Head unit, It will do until I get an Alpine unit:
Then my strut brace went in a couple of weeks ago:
Then this arrived last week too
As well as the new indicators for the above:
I may change these over to silver ones once I have seen them in the bar:
How they should look in the bar:
My favourite profile of the bar:
I'm just waiting for these to arrive before I take the car to the body shop to get installed/painted:
And that's about where I'm up to for now
I'm hoping to have it all installed before the charity cruise in a few weeks!
For any local members:
http://www.southernskylines.com/charitycruise/