gday this is my rodeo
about 3 months ago i was after a second hand ute. requirements were - dual cab, turbo diesel, 4wd, and thats about it. then along came this tidy number - a '96 tf rodeo, 2.8 turbo diesel, already fitted with a TJM Tourer Top canopy, TJM alloy winch bar and a Hayman Reese towbar, bought it off some bloke for an extremely cheap figure - about 3 grand under market value - because it was running like a bag of shite and he had been quoted $2000 by his "mechanic" to remove the injector pump and reseal it. I'm a diesel fitter by trade so, half a day later and $4.60 for a injector pump drive shaft seal and it was back to behaving how it should.
the day after i picked it up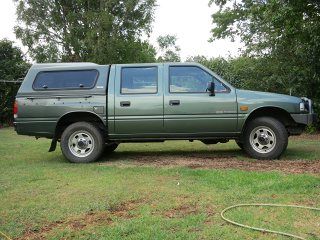 metalic green paint
the main use for this ute is going to be camping and fishing trips, so a few mods were called for.
first up were the spotties and uhf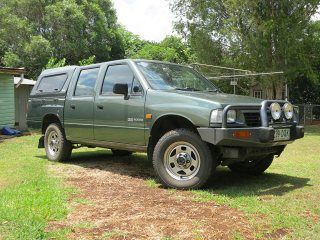 then a set of twin thermo fans from a ef falcon with a davies craig thermo controller. (havent got pics of this at the moment)