Thought if im going to be active here i should have a thread so it dose not look like im some random dude that runs his mouth off.
Here it is. The bane of my existence. the reason i know so much about cars because i never stop working on this bloody thing.
Everything you see in this thread i have done myself unless it required some sort of machining on a mill or the likes to specific exacting tolerances. Cuz' generally you cant do that with a 4" angle grinder. (I've tried >.> )
I didn't put this in the build thread section as i wont be updating that sort of thing here. If you want to see that roll on over to Xfalcon and check me out there. i have pages and pages of crap there you can waste your life on if you feel so inclined.
If anything you will see that there's nothing you can't do. I wasn't born been able to do these things. I didn't just 'know' how to panel beat or paint or build an engine. I've screwed up plenty and i still do but im not scared to have a go and always intend to do it right. always get opinions and do your research. don't listen to any one opinion but the opinion of many and then make your own opinion. I hate when people feel like "it should be left to the experts" because that's not always the case. these experts were novices at some point and there's nothing stopping you from learning these things other then your own perception... and maby your wallet.
Now if only id fallen in love with a car more suited to been sporty and less to been a 80's family sedan =P
Moving on from the motivational stuff.
As current:
1987 Ford XF falcon.
Engine:
6cylinder 4.1 ltr naturally aspirated.
Aftermarket MS1-ECU on v2.2 board running MSnS-E for fuel and spark.
Yella terra rollers non adjustable.
hydraulic camtech CT142528 cam with 534' lift
110lb double sprung (dampener type) valve springs
ported intake side of head (exhaust left factory, these heads are over-exhausted and exhaust ports are often left to maintain exhaust gas velocity.
ported injector body from factory 34 to 38 to match intake, tapered to 40 to match adapted e series broadband manifold.
acl race pistons balanced with crank, balancer and flywheel.
pacemaker extractors 3-2-1 to 2.5" mandrel exhaust
electric davies craig waterpump
Transmission/driveline/suspension:
Exceedy HD sports clutch and pressureplate and a quartermaster hydraulic throw-out bearing mod. also known as a concentric slave cylinder and bearing.
late series T5 (5 speed manual)
e series 28 spline 4 pinion center 3.23 ratio LSD (diff)
stock rear rotors
235mm wide shoes rear
DBA roopaw vented, slotted rotors and bendex ult's breaks on the front
225mm shoes front
1" front upper control arm drop (the 'shelby drop'. it increases camber rate)
modified upper ball joint mounts
all suspension components rebushed with polyurethane
pedders superlows fronts with pedders bigbore shocks
upper shock mount spacers
rear shock tower height increased.
lovells lows rear with stock Monroe rear shocks
tail shaft tunnel chopped and height increased to increase tail shaft clearances.
exhaust has been solid mounted and close to body to increase ground clearances.
Audio:
2005 series alpine
2x type-X 12" woofers
2x mrd1005 1000wrms alplifiers
1x mrp4.100 (4x100wrms) amp
6.5" r type splits rear
5x7 r type splits front
134.3db @ 52hz
Other:
interior is stock
35watt HID conversion
thermo fan
120A altinator
600cca cranking battery front
deep cycle battery rear capacity unknown, i think it was 35Ah?(for audio, to supplement the potential 400A draw)
viper alarm, keyless entry and boot popper.
tinted windows
Want to see how i built it? Check my build thread on X-falcon
http://www.xfalcon.com/forum/showthr...s-boring-build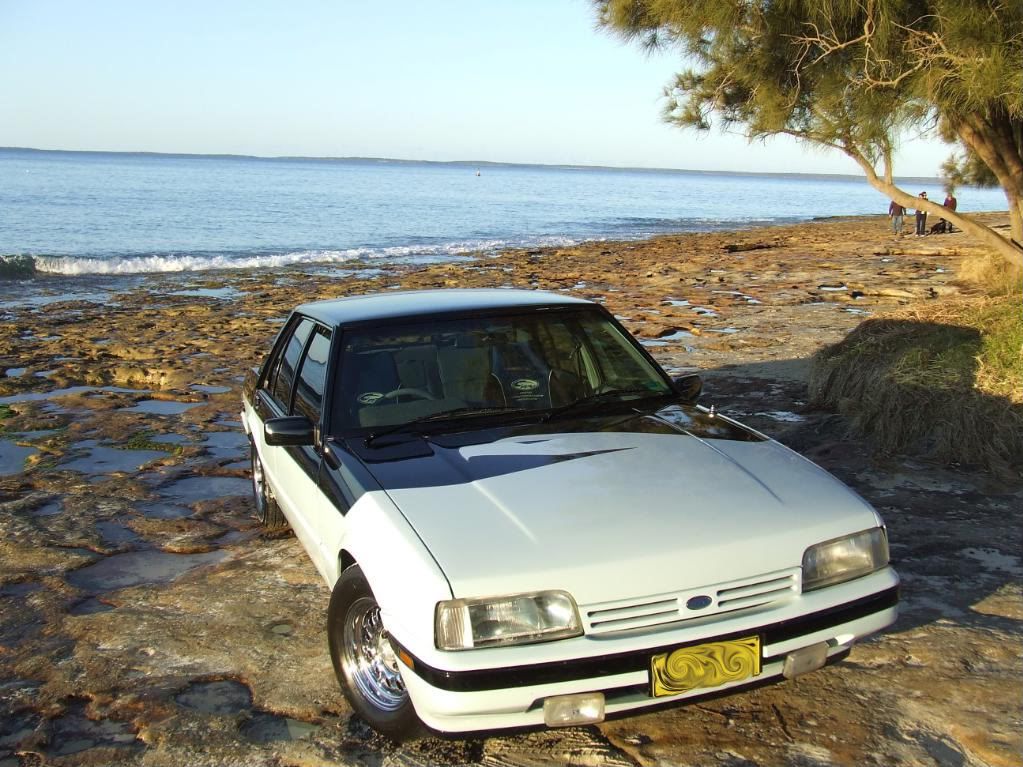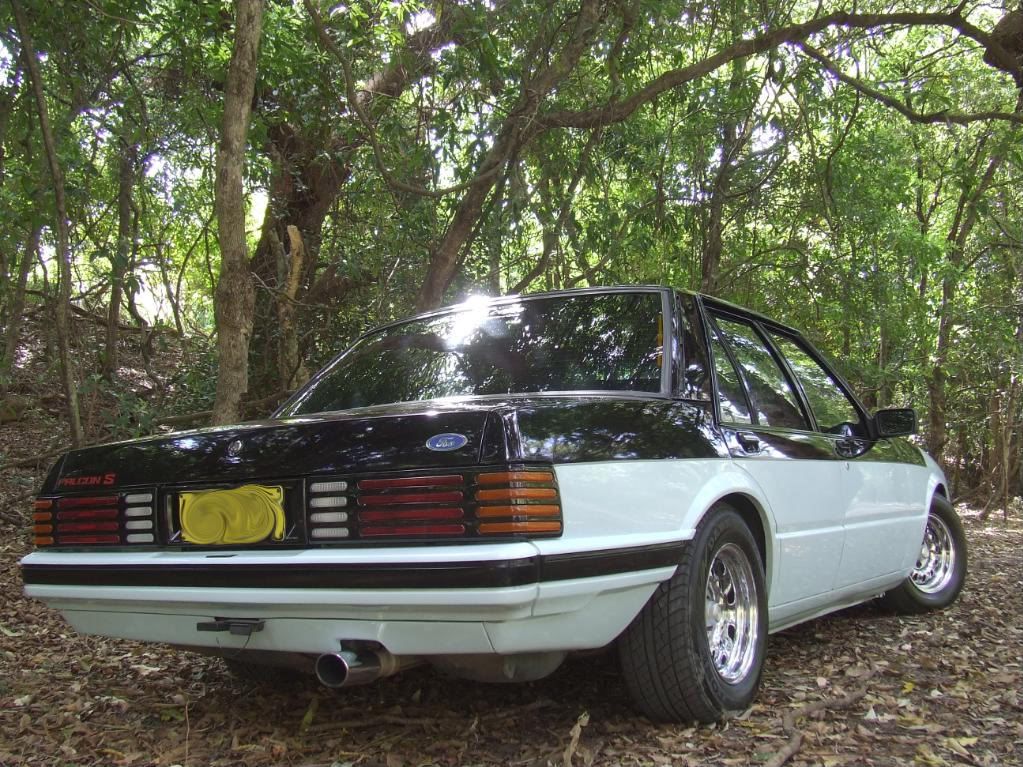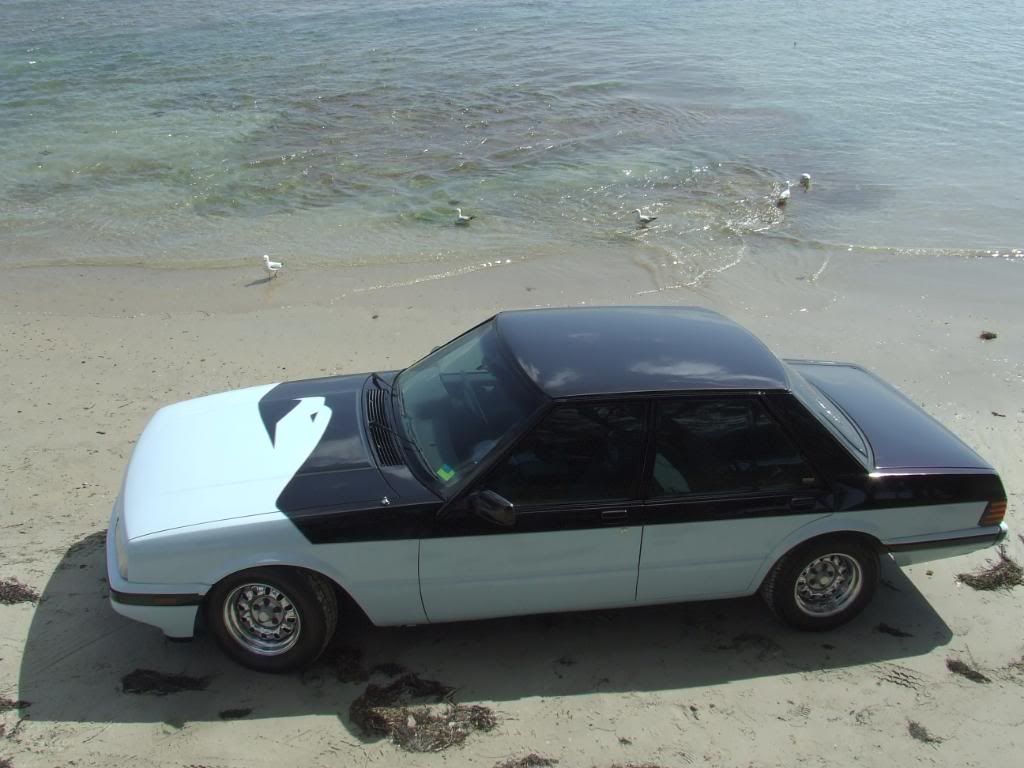 engine bay is currently under renovations but this is what it looks like as of right now. will be tidying it up this week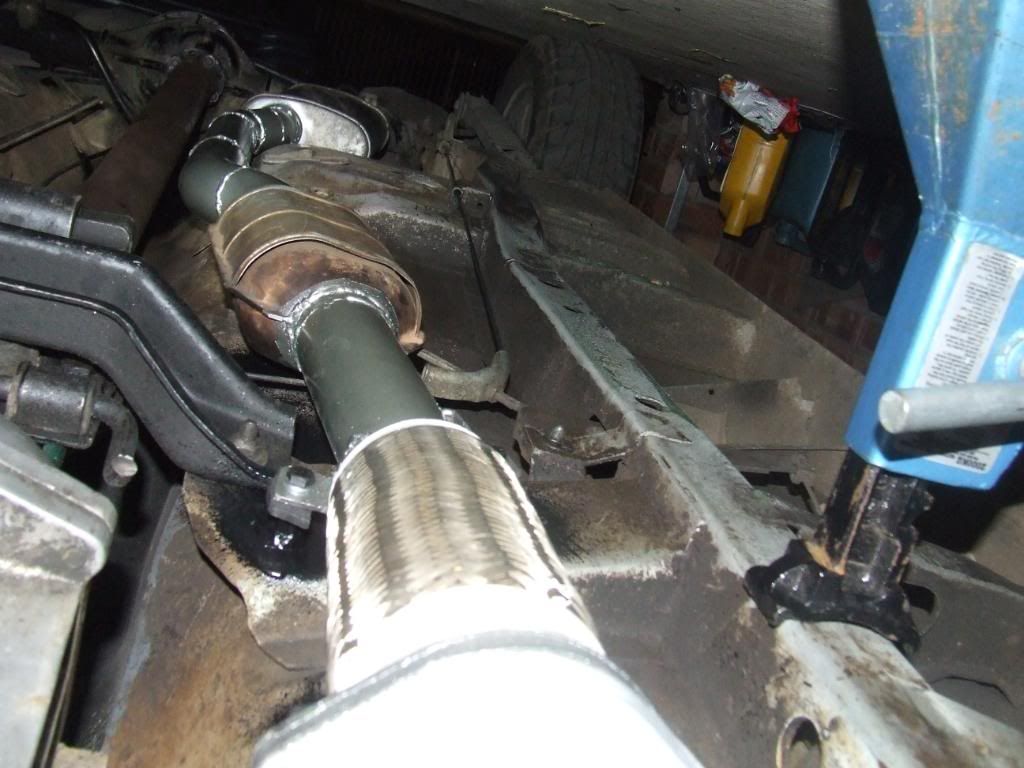 ***********EDIT***********
Update : 8Feb12
From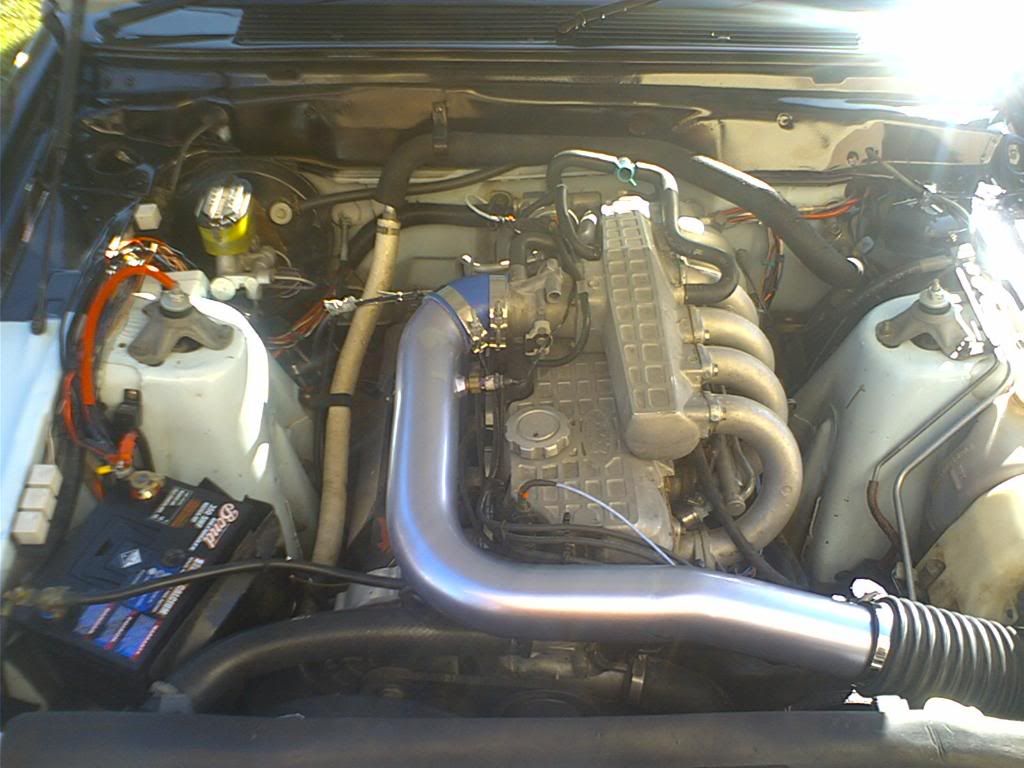 Too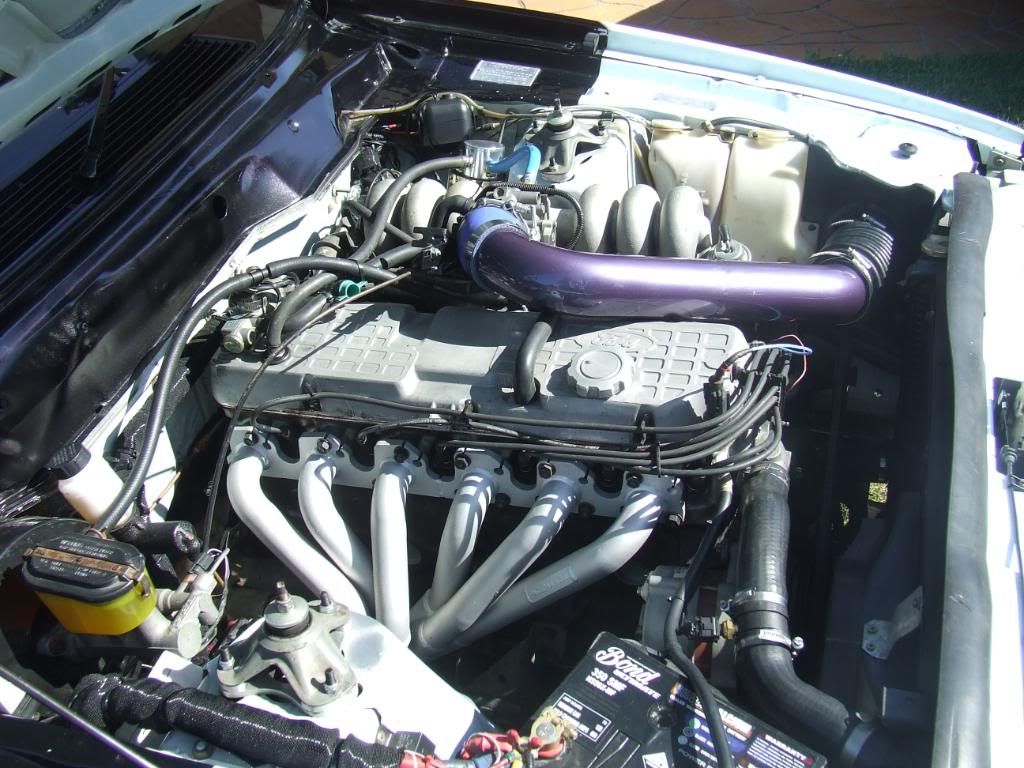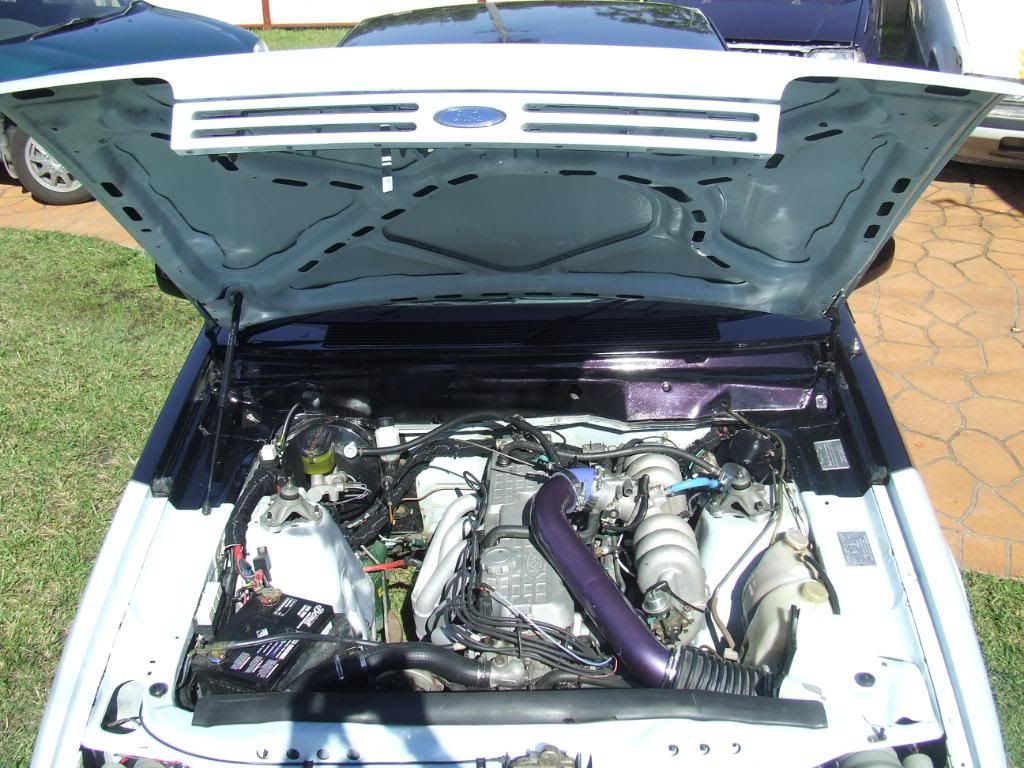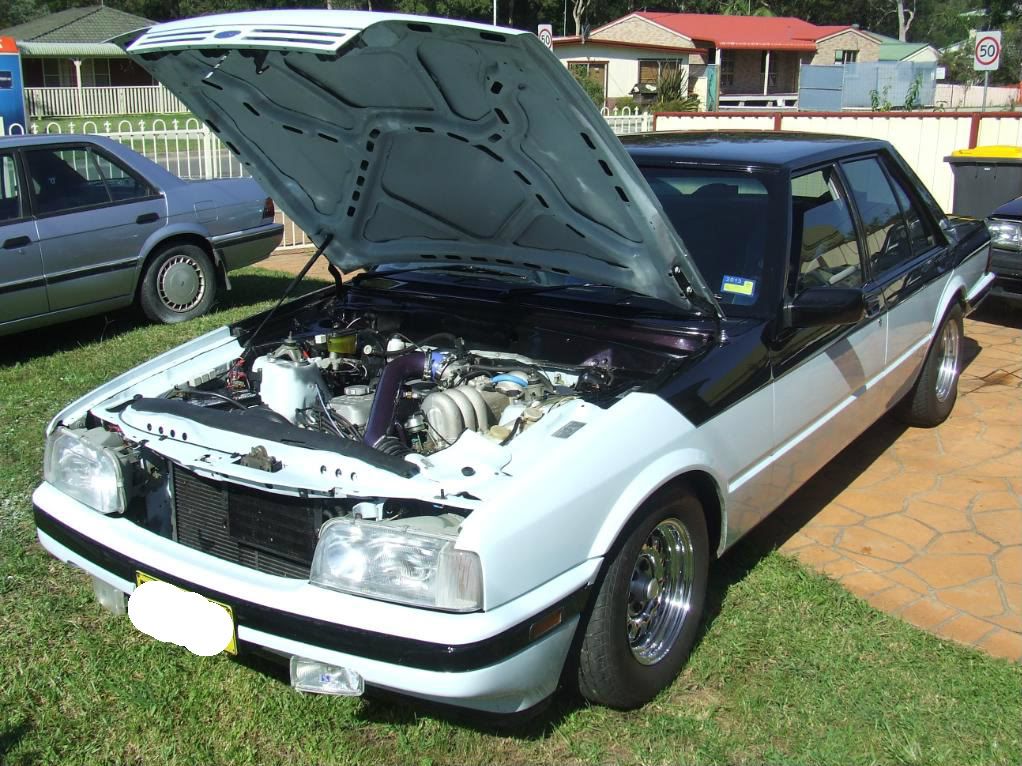 Some rubber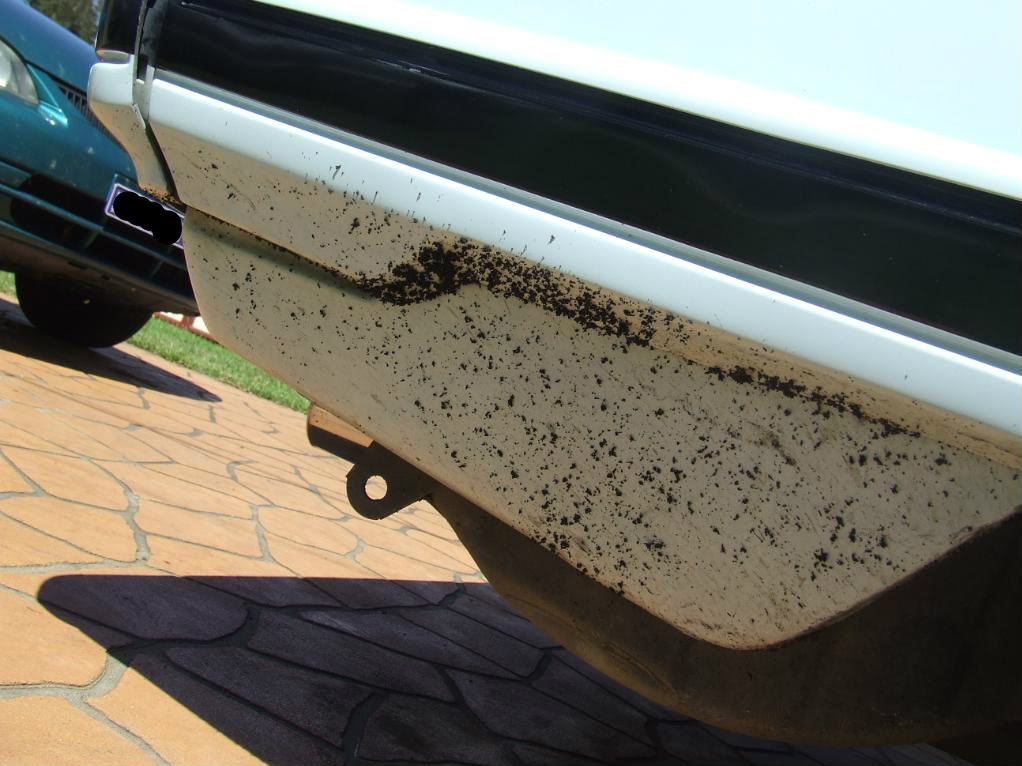 Some damage, but not more then i anticipated.
List of latest mods:
intake Manifold + support
Catch can
Cam
Entire exhaust
dipstick
Electric waterpump
intake duct and filter
coil
timing gear
pushrods
tach mod on ECU
Manifold control mod on ecu
e-series accelerator pedel + cable and made up a cable adjuster
**************/edit******************
vids:
taken tonight while i was doing a post eng work oil change and making a supporting bracket for the extractors near the bellows.
At wakefield park (trying to get ready to go again.)
*Edit* New vids:
8feb12