Expanding from my introduction thread.
I bought my ute on Jan 1 2010 (2 years today i just realised
) as dead stock apart from bluetooth with 45,000km on clock.
Here it is after driving it 1000km from Brisbane to Mackay when i bought it. 2007 Ford XR6 Turbo Ute. In Seduce, 6 speed auto and all interior options.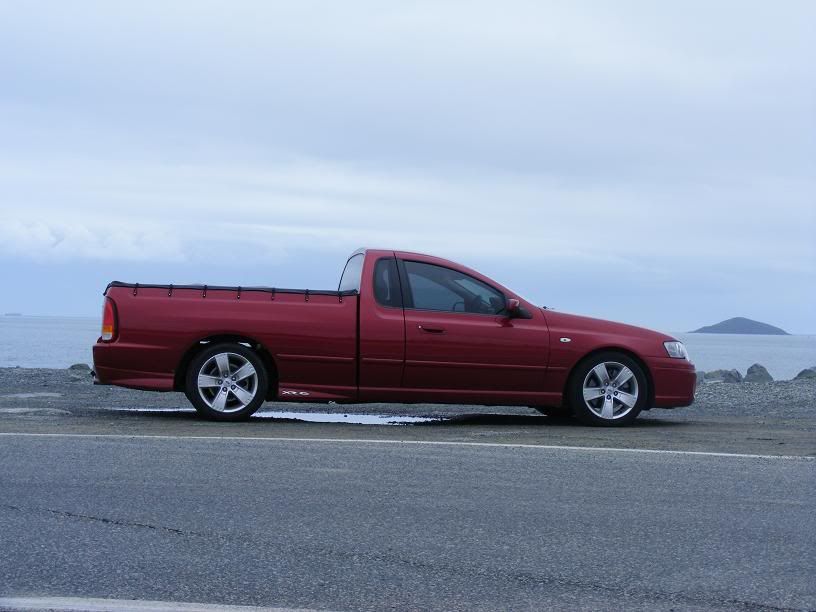 Look at that massive 4x4 ride height.
Before i had bought the car home i had a front mount waiting at home for it. Was on special and what i wanted so jumped the gun and bought it.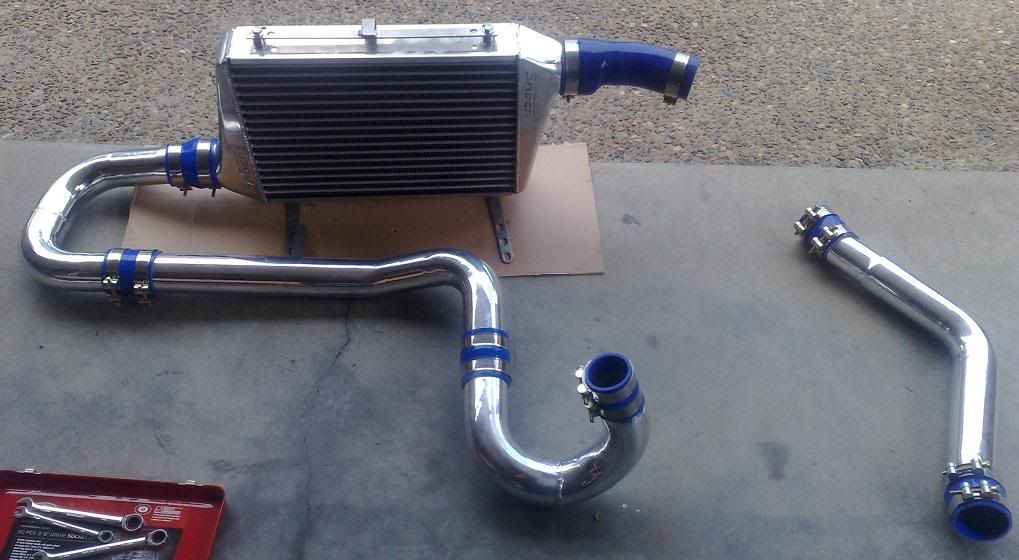 Compared to factory cooler.
The car also got a Typhoon lower airbox , DBA 4000series front rotors, bendix pads and stayed like this for quite a while. Only mods were ipod connection and replacing as many bulbs with LED as i could.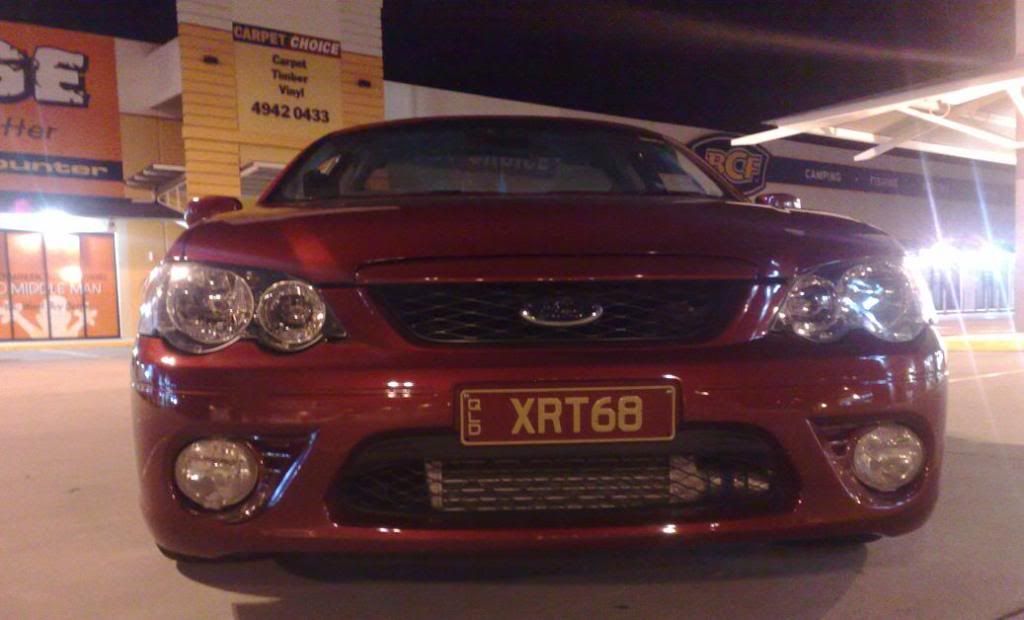 Then i bought a few things. I replaced the 17inch wheels with worn out front tyres with factory 18inch wheels with good rubber. 1 inch lowering blocks went in the rear at this time as well.
I had also been slowly peicing together a hardlid setup and got it painted by a spray painter friend.
Not long after i bought 30mm Whiteline swaybar and a twin 2.5inch catback exhaust. I fitted 3 inch tips in same style as factory ones.
I also got my OBD2 gauge reader. Plugs into standard computer port under dash and i can display almost anything i want in whatever style i want.
I have mine set to read Oil temp, Trans temp, Air intake temp, Coolant temp, Timing and Boost.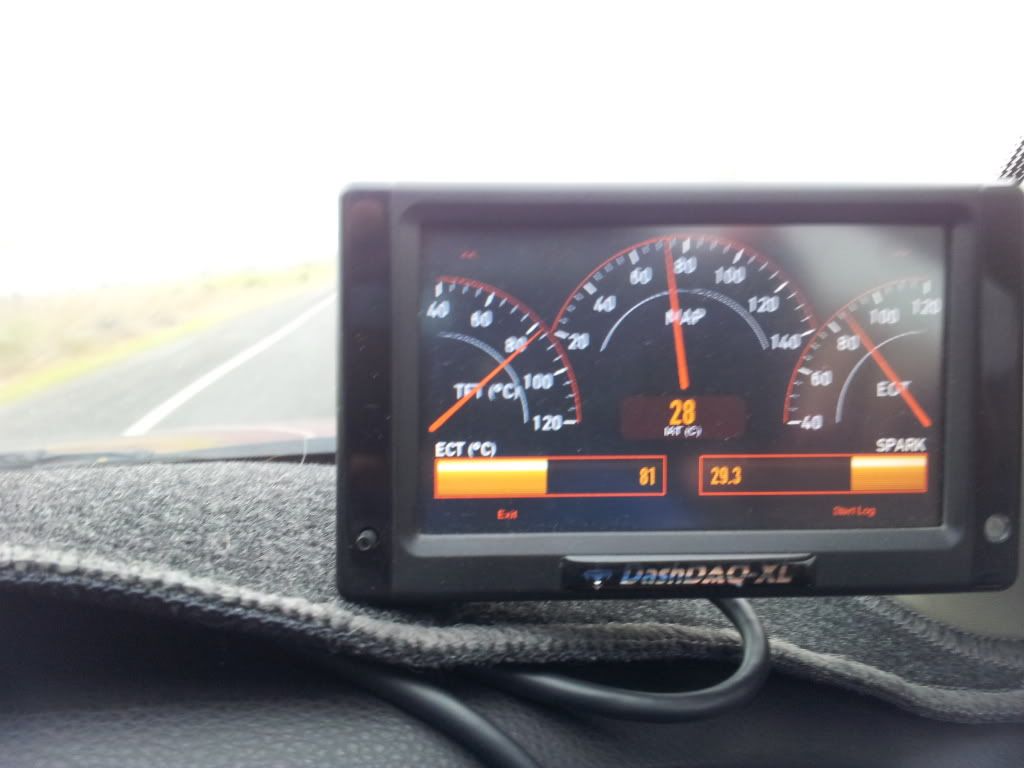 Comes in handy alot, i know when my car has warmed up properly. I can read error codes and it also tells me when to shift if im in manual mode.
Not long after getting the factory 18s i had the chance to buy a set of aftermarket 18s that had never been on a car from a friend.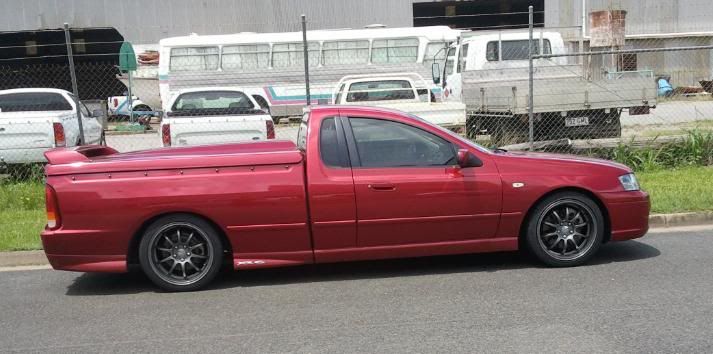 They are Apec RSD. a copy of the Advan RSD. 8.5 front and 9.5 rear. Meaning i now have 265 on the rear instead of factory 245. I only went 18s as the roads here are pathetic and there was a chance i was going to do alot of highway driving out west for work which thankfully didnt happen.
For my B'day my Gf bought me Ipod video input for my car. Was all plug and play. It tricks the car into thinking your just using factory sat nav. I mainly play music videos on it but people have watched movies on longer trips. Usually blows people away when they see it. One of my fav mods on the car.
Then the bigger mods started. I slowly started collecting parts for when i was going to get a tune done. On the XR6 Turbos there isnt much you can do without getting a tune, no raising the boost, no big exhaust systems.
I bought a set of 42lb Bosch injectors, a 4.5 inch highflow cat, new spark plugs, X3 flash tuner, Tein front coilovers, and a new intake setup with more intercooler pipes.
Intake went in first. Factory intake path has the airbox on the passenger side , crosses over the motor to the turbo. Its long and i didnt like how it looked. New one sucks air in from behind foglight and front grill and goes straight into the turbo. Out of sight as well. Other intercooler pipes replaces the rest of the factory piping so now theres nothing remaining of the stock intercooler setup.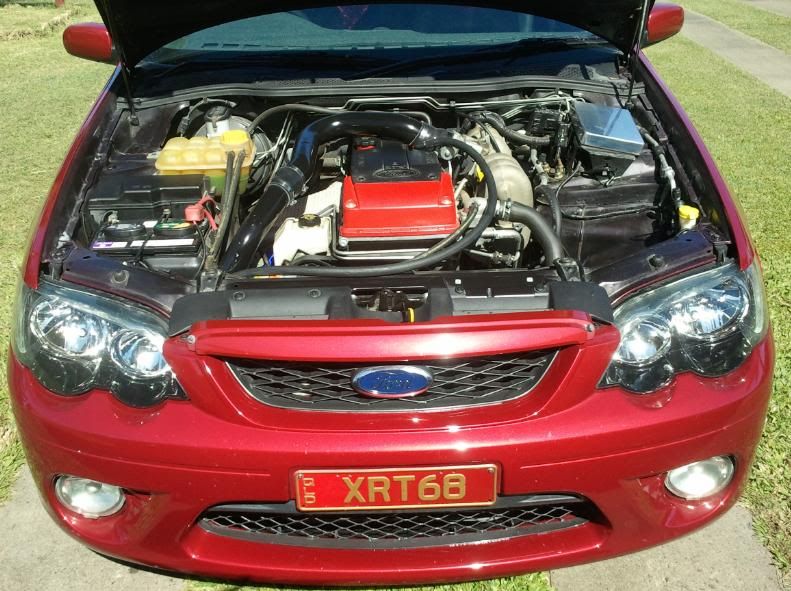 No bov fitted and it fluttered like crazy, even on the stock 4.5 psi boost and intake noise was awesome.
Next the Tein coilovers i got for a bargain were fitted. The rear was lowered another half inch to match it up better.
Day after the coilovers were put in it was time to get the rest of the goodies fitted.
With the mods already fitted the car made 211kw which was pretty good for standard tune.
Cat was welded into standard 3inch dump pipe, injectors fitted, spark plugs changed and the tuning began, Straight away the car wanted to make big boost. After some more tuning we got a repeatable 315kw on 12psi with conservative timing and safe AFR. I was only chasing 300kw so i was happy. Still on the standard fuel pump i wasnt game to push any more power. Tuning was done on Caltex 98 fuel.
Car was now an animal to drive under full power. Just keeps going on what seems like an endless wave of torque with the auto selecting gear after gear.
Induction sound is unbeleivable and people hear me coming from ages away if im under boost. Highflow cat also livened up the exhaust sound as well.
After tune havnt really done any other mods. I did add 2 12inch subs behind the seats but apart from that i just drive it on my days off.
No real mods planned for future. May do fuel pump as a precaution. But cant wait for winter then its drag strip time.